Well, it's September and that means a couple of things: Sydney Bar Week is just around the corner (it kicks off on Saturday 16 September and runs for five days), and it's time to update your menus for the warmer months ahead, which is exactly what Shady Pines Saloon is about to do.
James Irvine is the beverage director for Swillhouse, the group which owns Shady Pines Saloon along with The Baxter Inn, Frankie's Pizza and Restaurant Hubert; Irvine tells us that the new menu lands in venue on Friday the 8th of September.
Shady Pines Saloon is some eight years into operation and still as relevant as it's ever been, so if you're looking for some menu inspiration, check out our brief chat with Irvine below and take a look at the menu for yourself.
What's the idea with the latest menu?
The Spring and Summer menu has taken inspiration from an era that is very close to the venue… 1970's Americana. We decided on this as a team via a Facebook poll vote. This was a lot of fun! As always, it was collaborative effort and everyone came to the menu meetings with different ideas on liquid and concepts, which is great.
We have everything from a nod to global events, artists, songs, TV series and characters of the era. It's a good mix.
Tell us a bit about how the Junglebird comes together – passionfruit wine?
This drink was inspired by the famous cocktail from
The Aviary Bar
at The Hilton Hotel in Kuala Lumpur, circa 1978. I know a few bartenders, far and near, that have revived this classic. However, we thought it would be great to create a tropical Spritz hero-ing Campari and using rum as the backbone, along with the all encompassing flavour profile of what we've simply called 'Dutty Wine' (a notorious flirtatious Caribbean dance move).
The idea for passionfruit wine came from one of my favourite drinks at This Must Be The Place, called 'Lotus' by Jake Down. Jake made this cracking passionfruit and ginger wine, which was so harmonious and balanced — it was a banger.
Dutty Wine incorporates passionfruit, pineapple and kaffir lime and is riesling based.
What challenges do you face when doing the list for Shady?
Shady Pines looks at everything in the same light. It's a light hearted, fun atmosphere, with some serious talent. The challenge that we're faced with is incorporating that into our drinks and doing them justice.
ADVERTISEMENT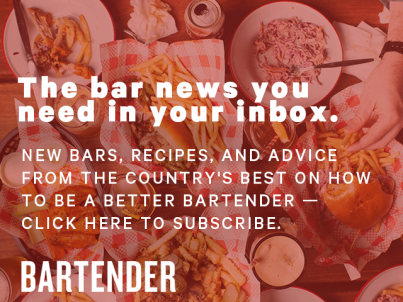 &nbsp