It's the time of year for new menus, and Sydney bar PS40's new cocktail list has undergone a complete revamp — here we take a look at two killer drinks from the list.
The team at PS40 aren't afraid to test the boundaries of the drinkmaking process — there's no blind adherence to 1800's formulations here — and the result is a list of drinks that you'll only be able to get at their bar. It's a top-flight effort the likes of which you'd expect from the bar, which is this year nominated Cocktail List of the Year at Bartender Magazine Australian Bar Awards.
This time around, the creative process has seen Bergquist and co-owner Michael Chiem (the 2016 Bartender of the Year) draw upon the deep bench of talent they have working with them at PS40.
"Our new menu at PS40 is the first time we've revamped every drink and the reason behind that is a huge contribution from the entire team; Grazia di Franco, James Snelgrove and Ryan Snedden have been involved with every part of the drink creation process," says co-owner Thor Bergquist.
ADVERTISEMENT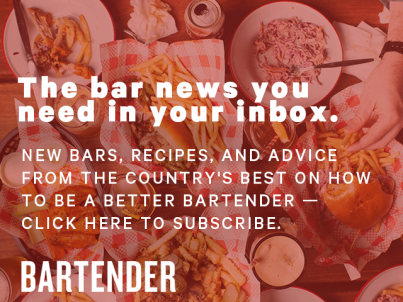 &nbsp
Over the course of the last year the bar has also hosted popups from two of the world's more creative bartenders, and that's informed this latest menu.
"Recently we've had the pleasure of having Luke Whearty from Operation Dagger, and Nico de Soto from Mace who really push the boundaries when it comes to techniques, ingredients and flavour profiles," Bergquist says.
"Seeing how well their drinks was received we were inspired to push the boundaries creating drinks that are complicated in concept, simple in execution yet familiar to guests."
Below, take a look at PS40's new cocktail list, and get the recipes for the Miso! Miso! and the Fighting In The Dojo — including a spec for Smoked Caramel Miso Whiskey which we want more of in our life.
Miso! Miso!
70ml smoked caramel miso whiskey
5ml simple
1x dash Angostura aromatic bitters
1x dash Peychauds bitters
Combine in a mixing glass and stir down over ice. Strain into a frozen double old fashioned glass over large rock. Garnish with orange zest and a dehydrated tofu cube, first soaked in bitters and coated with sugar granules and topped with spring onion.
The whiskey for this is made by combining the below ingredients in a vacuum bag and sous-viding for four hours at 50 degrees, then freezing and straining.
For the smoked caramel miso whiskey:
50g white caramel
25g red miso paste
50ml smoked water which is the base for our PS Smoked Lemonade
700ml Bulleit Bourbon
Fighting in the Dojo
40ml PS40 aquavit
5ml suze
20ml carrot, coriander and coconut oleo saccharum
20ml lemon
2 x cherry tomatoes
Combine all ingredients in a shaker with ice and shake till your heart's content. Stain into a highball over ice. Garnish with dill skewered cherry tomato.
PS40 aquavit is made by toasting cumin and caraway seeds, adding lemon zest and dill and infusing in vodka for 24 hours.
Photographs by Wesley Nel, Art Direction by Livia Lima.