Today we tend to think of tiki and tiki bars in general as kitsch, lauding them in some ironic kind of way. But back in the 1930's, when Don the Beachcomber got underway, and into the 1950's, tiki was very much the place to be.
Indeed, if you stepped into Don the Beachcomber's in Hollywood in the thirties, you might have been sat near Clark Gable, Fred Astaire, Ginger Rogers, and Charlie Chaplin. A description of the bar at the time described a place where "the food is exotic, tropical rain drums on the roof and the interior is so dim that all the ladies look lovely."
There are many who have had added to the tiki repertoire over the years — bars like Tiki Ti in LA, for one, and more modern interpretations of the genre from places like Three Dots and a Dash in Chicago (check out their Pandan Painkiller recipe in this feature) but there were two competing giants: Don the Beachcomber, and Trader Vic. We look at those here.
Don the Beachcomber & Sunny Sund
ADVERTISEMENT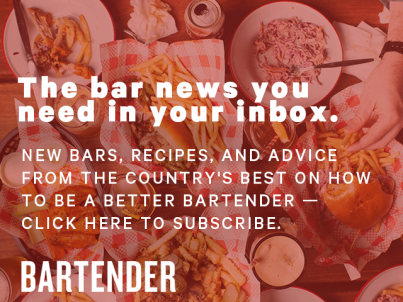 &nbsp
Donn "Don the Beachcomber" Beach was born Ernest Gantt, the son of a New Orleans hotel owner who tried his luck on the unsearched lands of Texas to find oil (what's known there as a wildcatter). Gantt was given the choice by his grandfather to either go study or go on a trip — and he chose to travel, ending up in places like Singapore where he downed a Singapore Sling or two and giving him the inspiration when the day came, in 1934, to open a bar.
He managed to talk the owner of a hotel in to giving him a little 25 seat place to get a bar up and running; he met his future wife and business partner there, they moved the bar across the street and Beach's take on exotica took off with the LA scene.
Don was a "personable extrovert" who had a gift for "concocting extraordinarily seductive rum drinks" according to a 1948 article. The article, though, also highlights one important person who isn't discussed as often: Sunny Sund.
Where Don was the showman, the one who had a way with drinks, it was Sund who was the driving force behind the business.
"But while the movie colony discovered a lot of things about the Beachcomber — among them Don, his Zombie and its super-Cantonese bill of fare — they failed to discover Sunny Sund," the article, published in the Saturday Evening Post in 1948 says. "Because her first two names are Cora and Irene, the Beachcomber help, a mixture of Filipinos, Chinese, Mexicans and Negroes, called her "Mamma C. I." The majority of the more than 600 patrons who flock to the Beachcomber on week-day nights, as well as the 900 plus who pack it on Saturday evenings, called her nothing at all. They didn't know she existed. Even some of her competitors looked blank when her name was mentioned. That was partly because Sunny was content to let Don greet the trade."
Estimated to be doing $1.5 million in 1948, Don and Sunny would open a Don the Beachcomber in Chicago in 1940, and one in Hawaii later that decade.
The Zombie is possibly Don the Beachcomber's most famous — and powerful — drink, and supposedly created to rescue a bloke from a hangover, according to the 1948 story. "The suffering customer confided to Don that he was experiencing the worst hangover any one had had since Rip Van Winkle woke up. To make matters worse, he had an important business conference that evening. Don poured one ounce each of six different kinds of rum into a tall tubular glass and added other ingredients. The customer tossed it off and departed. The next time he saw him, Don asked how it had worked. "It made a Zombie of me," the customer told him. "I felt like the living dead."
Trader Vic
Trader Vic was San Francisco's answer to LA's Don the Beachcomber. Trader Vic was born on December 10th in 1902, and named Victor J. Bergeron.
The story goes that Bergeron, who owned a small, undistinguished bar called Hinky Dinks in Oakland, California, visited Don the Beachcomber in the early 1930's. Impressed by what he saw, he appropriated the exotic, South Seas-vibe and changed his name, his bar coming Trader Vic's in the process.
As always with stories of rum and, well, drinking in general, Trader Vic was prone to a few exaggerations here and there.
Part of the legend that was Trader Vic was his wooden leg. The San Francisco Chronicle obituary of the man, in 1984, described him as saying that he would entertain punters by singing, and letting "customers stick an ice pick in my wooden leg".
And it didn't end there. As Atlantic writer and author of And a Bottle of Rum, Wayne Curtis, has written, Trader Vic would tell his customers — and anyone else who would listen — that he had lost his leg one fateful day to a shark. It's a good story, but far from the truth that he lost it thanks to a kind of tuberculosis that attacked his knee.
Trader Vic's ended up becoming the most widespread of the tiki chains — and indeed, these chains inspired many a theme restaurant and bar later in the twentieth century. You could say that without Trader Vic's there would be no TGI Fridays, no Hooters.
Nowadays the Trader Vic's that still exist are more parody than Polynesian escape, and there is increasing talk in the US, at least, that tiki bars, with their crude depictions of Polynesian tiki totems, are exploiting the culture of the South Sea islands.
Does tiki have a cultural appropriation problem?
The way the bartending community sees tiki bars can be in opposition to how others see them. A few months back in the US, an Oregon bar closed after just a week in response to accusations of cultural appropriation.
The Hapuna Kahuna Tiki Bar & Kitchen fielded a complaint from a woman of Hawaiian descent on its Facebook page — she criticised "the iconography, plastic leis, name and Tiki masks of the restaurant," according to The Oregonian.
The iconography of tiki — the carved mugs drawing inspiration from Polynesian and Maori culture — is viewed by some as a crass exploitation of those peoples' history.
It's a conversation that isn't really on our radar here in Australia, but given our own history of exploiting South Seas Islands people, perhaps it's worth investigating.