Online today, we're writing about a few of phegods of the tiki cocktail movement — Donn the Beachcomber and Sunny Sund, and Trader Vic. But here, we're taking a look at four killer tiki recipes — there's Trader Vic's Mai Tai and Samoan Fog Cutter, as well as the Good Ship Aperitiki from Sydney's Burrow Bar, and the Pandan Painkiller below all the way from Chicago tiki bar Three Dots & A Dash.
Take a look at the recipes below.
Pandan Painkiller
Original Recipe By Scott Schuder adapted by Kevin Beary & Julian Cox, Three Dots & A Dash Chicago
Photo by Jeff Marini.
In Advance:
ADVERTISEMENT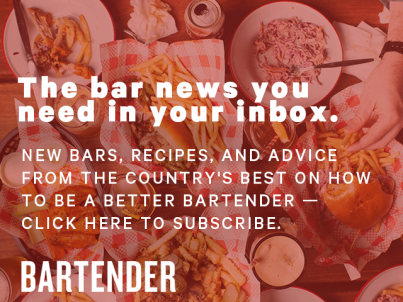 &nbsp
2 Oz Foursquare 2004 Barbados Rum
1 Oz Hamilton's Jamaican Black Rum
2 Oz Coconut Cream
1 Oz Cocpandan Syrup
4 Oz Fresh Pineapple Juice
2 Oz Fresh Tangerine Juice
Pinch Salt
At Service:
2 oz Fresh Pineapple Juice
16oz Crushed Ice
Fresh Mint
Nutmeg
Orchid
Combine ingredients and mix well. Place in freezer safe container and freeze for 24 hours. For service place frozen 'Puck' in high power blender with 16oz crushed ice and an additional 2 ounces of pineapple juice. Blend until smooth. Pour into tiki mug. Grate nutmeg over cocktail, garnish with generous portion of mint and orchid, grate additional nutmeg over mint and orchid.
For the Cocopandan Syrup:
1 L Water
3 Pandan Leaves (Chopped)
1000g Sugar
Combine leaves and water in small sauce pan. Bring to boil. Remove from heat and steep for 30 minutes. Bring to a simmer remove from heat and add sugar. Strain leaves and allow syrup to cool to room temperature. This will yield 1 litre and has a shelf life of 2-3 weeks in the fridge.
Now, that's one heck of a recipe. This spec comes all the way from Chicago tiki bar, Three Dots and a Dash.
Mai Tai
30ml Rhum J.M VSOP
30ml Appleton Jamaican rum
15ml De Kuyper Triple Sec
15ml Monin Orgeat Syrup
7.5ml sugar syrup
30ml lime juice
Shake with crushed ice, pour unstrained into a double Old Fashioned glass. Garnish with a mint sprig and spent lime.
Adapted from a recipe from by Jeff Beachbum Berry.
You're probably familiar with the story of how the Mai Tai got it's name— mai tai is supposed to be Tahitian for 'very good' — but did you know that Don the Beachcomber had a recipe for one that pre-dated Vic's? They're different drinks, however, and this one? It is very good.
The Good Ship Aperitiki
20ml Hendrick's Gin
20ml Campari
15ml Punt e Mes
10ml Plantation Pineapple Rum
7.5ml falernum
Shake all ingredients with ice and strain over fresh ice in a tulip glass.
This is a recipe we've adapted from the guys at Burrow Bar — it's a fine balance of ingredients, a great balance of bitter and sweet, and all round delicious.
Samoan Fog Cutter
60ml lemon juice
30ml orange juice
45ml Bacardi Carta Blanca
15ml Boigin Gin
15ml brandy
15ml 1883 Routin Orgeat
15ml cream sherry
Blend all ingredients except sherry with 1 cup of crushed ice for five seconds. Pour into a tiki mug, add extra crushed ice as necessary.
This is a Trader Vic recipe, and an update of his Fog Cutter — this one adds some gin into the mix.