Melbourne's Chin Chin has finally opened their Sydney outpost, and there's a big focus on the bar side of things — here, we're taking a look at the Chin Chin Sydney cocktail list.
What do we like about the direction the drinks are taking? Well, when you think you've just about seen everything new that anyone can do with a cocktail list, here comes a new take on the classic format.
2016 Bartender of the Year Michael Chiem has been brought on board to consult on the drinks for Chin Chin, and given he's the co-owner of Sydney bar, PS40, which took out the title of Cocktail List of the Year at the recent Bartender Magazine Australian Bar Awards, you can expect big things from the drinks here at Chin Chin's GoGo bar.
"Ingredients are the focus card at GoGo bar where we've created a food/drink pyramid to make sure you get a balanced drinking session," Chiem says.
"The idea is that we choose an ingredient from the food pyramid and use that as the focal point rather than a spirit or category of cocktail."
ADVERTISEMENT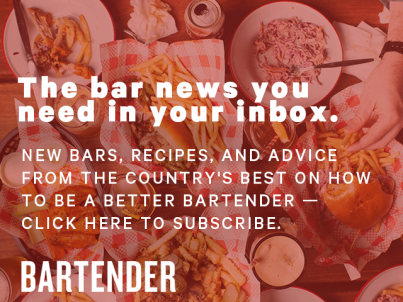 &nbsp
To do justice to the design of the list, you'll need to head into Chin Chin itself (the interwebs, sadly, not being tactile enough), and the graphic design was carried out by bartender and graphic designer Kate Carlisle (we've seen the thing up close, and it's a thing of beauty).
The drinks themselves are a result of Chiem's work with Chin Chin bar manager, Simon Audas and assistant manager James ' Rusty' Russell.
"We wanted guests to interact with the menu first by choosing a core ingredient and then as you turn the page the drink in its entirety is revealed," says Chiem. "The aim was to make the menu less confronting with graphics and have guests explore drinks ideas in a fun and unique manner rather than decoding bartender jargon."
Take a look at the menu below, and if you're in Sydney visit Chin Chin at 69 Commonwealth Street Surry Hills.