It might have what is the longest entryway into a bar in Sydney, but when you head through a door on Pitt street, skip down a flight of stairs, and come to a large, golden pineapple door knock, you will have found new Sydney bar Door Knock.
"It has a beautiful cozy cabin-like feel where you could come down and sample from a cocktail list that is fun, innovative and constantly rotating depending on what's in season, but more importantly on what we are loving or obsessed with at that moment!" says co-owner Natalie Ng.
Door Knock is taking over the space that once housed Norsk Dor. Ng will be stripping away the Nordic elements of the space, emphasising the bar,
and putting a strong emphasis on fortifieds and sherry.
"Because we bloody love sherry and want to spread the sherry love!" says Ng.
Coming in as bar manager is Jonathan Carr (ex-Kittyhawk), who impressed this year in the Bartender Magazine Bartender of the Year by nabbing second place.
ADVERTISEMENT
&nbsp
"With the fabulous Jono Carr as bar manager and helping myself with the beverage program there is no doubt that the lists will be something special," Ng says.
"I had help creating an exciting wine list from an awesome brainstrust that includes the likes of Annata's Christian Blair and Rockpool/Rosetta assistant head sommelier Brittany Villafane-Dvoracek. The wine lists will imitate the cocktail lists, changing with what we love to drink while showcasing much of the new movement into natural wines, and at the same time staying true to people's favourites."
Food will be on offer as well, with a solid selection of drinking dishes to be had — think fried chicken with salted daikon, toasted pita, and a spicy shrimp dressing, or a lightly smoked beef tartare, and you'll get the idea.
The bar is currently trading for the time being as Norsk Dor, but they're due to close for a week in mid-November, reopening as Door Knock.
You'll find them at 70 Pitt Street in the Sydney CBD.
ADVERTISEMENT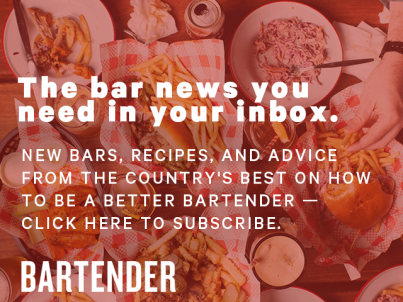 &nbsp