Former Eau de Vie bartender Tom Egerton on how he made the move to Hong Kong and the challenges of bringing sustainable bar ideas to a city not exactly known for its anti-waste attitudes
Story by Tom Egerton, Potato Head Hong Kong
No matter how much you tell yourself you're in for culture shock when you move to a new city, reality never really sets in until you step off the plane and take that first sniff of new country smell. I moved to Hong Kong looking for a challenge I didn't feel I was getting in Sydney anymore, and the fragrant harbour delivered in spades. Within 48 hours of me landing my entire bar team had resigned as I was replacing their old bar manager, an act of solidarity I could respect if I wasn't suddenly short of eight bartenders during the busiest week of the social calendar.
I was handed a restaurant menu in Indonesian to learn (I'm a Kiwi, so I can barely speak English), placed as the default sommelier (I'm rubbish with wine) and given the challenge of readjusting sequence of service across three sites in our venue, vast by Hong Kong standards, covering restaurant, bar and late night club/lounge area (I've not been near a nightclub since I was a 15 year old glassie).
The huge shift in challenge and expectation gave me a big lesson in humility, and reinforced to me how important it was to pick people with the right attitude and give them the skills to be amazing bartenders.
ADVERTISEMENT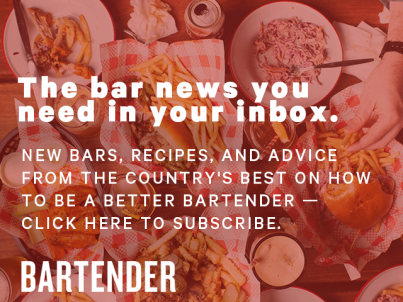 &nbsp
You can teach people how to make amazing drinks, but you can't teach someone how to care about their craft, whether it's making drinks or hosting people. My favourite example is my junior bartender Vincent, a retired Hong Kong financial worker who at 54 decided he wanted to try his hand at bartending. Eight weeks ago he'd only made a gin and tonic, now he's slinging Negronis and is in the finals for his first cocktail comp, and legit had outstanding chat, from local recommendations to dirty jokes. Respect. The slog becomes worth it when you see a junior person break through a barrier, when you see a customer name call a drink or bartender they'd seen on social media or in person and see their face light up, it's a joy.
Hong Kong works in crazy ways, when I started it took me a while to realise Jordan wasn't a hospitality supply company, it was the name of the old Chinese man who was our local "uncle" who went out to find the best deals from his old local friends. Need bar skewers? Message Jordan. Need a new juicer? Message Jordan. We are blessed with an extremely close hospitality network in Hong Kong, bound by a group WhatsApp chat. Any time you need an ingredient, staff, supplier or info on who's still open (lockouts be damned) just message the group.
Speaking of lockouts, non-existent. Nothing better than buying a bottle of Nikka FTB for $60AUD at 4am and smashing it on the street legally.
I've transferred to tropical bartending after nearly a decade in waistcoats and dicky ties, and I hate to say it but Tom Bulmer was right, a blender is your best friend in a bar. It's like a junior bartender who can dry shake, chill and will never talk back.
Hong Kong has been an incredible challenge, and it's only worked because of the amazing support network of bartenders on the ground here. My next goal is to grow the idea of the low-carbon impact bartending pioneered by Trash Tiki and Ryan Chetiyawardana, in a city with one of the world's worst waste records. The next step is to seed my pineapple paper with bamboo, so people can throw our cards in their gardens and grow something new. If we bring a little extra green into the world every time we sell a drink, it's a small win.