German bar legend, and unofficial Jägermeister Global Brand Ambassador, Nils Boese touched down for an Australian Tour…
Your bar – Manhattan Bar, Hildesheim – is owned, operated and staffed solely by you, has no menus, and is closed when you're out of town. How did that come about?
Well I started off like most bars, open six nights a week, working with extensive lists. I was also doing a lot of training and consulting work, and was frankly getting pretty tired of the whole scene. My bar was due a renovation around 2006 – having been open for 10 years – and at this point I decided I wanted nothing to do with the banks. I closed my venue and only did the work when I could afford it; leaving the bar closed for four months. It was that freedom that made me reconsider how I would run my bar: no menus, no opening times, etc… it made me fall back in love with bartending. I have never looked back.
Jägermeister – how did that come about?
Around 2009, Jägermeister started playing with the idea of brand education and delving deeper into what this liqueur is about. At the time, I was working with a few brands and a good friend of mine I knew from his previous role with Bacardi told Jäger that he has a guy who "has some knowledge, a good reputation but is entirely independent and very much outspoken". Over time we've grown the role together. I have no contract with Jägermeister, work off no scripts and really am allowed a freedom most brand ambassadors aren't. For me, it's a beautiful thing.
What does Jägermeister represent to you?
People often say it's a strong product and a great brand – I disagree: for me it's a strong brand but great product. The brand can only survive if the product is as strong as it is. It never disappoints. With the character and the care we put into it, for me, it's the best spirit.
ADVERTISEMENT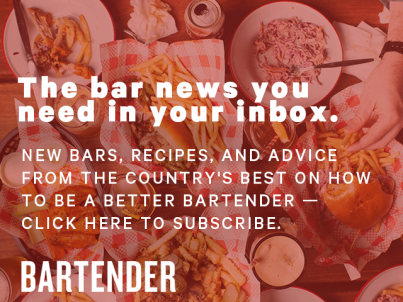 &nbsp
It really is so unique. There are some incredible whiskeys around – when I encountered them I can still remember or feel what I felt at that time when I drank my first sip, then today I take my bottle from my shelf and I'm like 'really? Are you kidding me?' Real disappointment. Jäger, for me, no matter where I am, is always so satisfying; I'm just so proud of it.
Hubertus Circle – tell us about the concept behind this.
It started in Germany in 2011, reached out to the UK in 2014, and beyond since then. We wanted to have a loyalty program that is in itself loose, not strict and not a competition. It's really about furthering the bartender community; we want to give something back. Bartenders all know incentives, they're like 'you know, we travel to here, we travel to this' – but with us it's more of a two-way lane: we are asking them for ideas, they are asking us for info; it works. For many bartenders it is also an opportunity to break into and experience the other side of the industry. The highlight for me was asking one group to run our stage at the BCB – which for me is the most accomplished bar show in the world – and this team was just smashing out drinks. It was so good, really nice.
Hubertus Circle in Australia?
Yes, definitely, not this year, maybe next year it could be on the agenda.
Had you heard much about the Australian bar scene before you came here? How is it perceived?
Yes, we always hear and figured that the Australian scene is pretty vibrant and pretty advanced, but, actually, people really look out way more for the Australian coffee scene. It's pretty obvious that there are some very talented bartenders, but for some reason it's really the
coffee scene that seems to have to managed to get the word out there. Maybe the coffee scene just evolved quicker.
You've been in Australia for 12 days, what's your take on the bar scene as a whole?
Very passionate, with a showman's craft. It's very much like: 'I express my identity through my drinks, through my bar – you can either like
it or not, but still, it's my identity'. I felt very much at home.
Any stand out venues?
Two places: Frankie's, they have a downstairs room (the Fun Room), that is one of the most iconic time traveling holes you can drop into, that was so amazing. It was unique and so good, the interior design was stuck in the middle of the seventies, you know, you could still smell the old stale cigarettes – with the right soundtrack, that would be a place I would work for sure. It felt like you were entering the danger zone. And in Melbourne, definitely, Black Pearl: It was in the most beautiful area of Melbourne – going down the street (Brunswick Street) it felt like it was in late 80's and early 90's London— it was a nice bar, great level of expertise, pride and knowledge but not pretentious; meeting on eye level — I really liked it.