Stuart Morrow — known to many in the industry as Chewy — has an enviable gig: he's the general manager of the award-winning Sydney bar, The Baxter Inn. It's way up there on the World's 50 Best Bars list, has been named Bar of the Year multiple times, and six years in is still one of the busiest bars in Sydney. Here, Morrow tells us what he does to keep The Baxter Inn at the top of its game.
As told to Sam Bygrave
General manager is my title, but 90 percent of the time it's just being a MacGyver and fixing anything that goes wrong the place — it's an old building, everything breaks. You name it, I've fixed it.
Generally we have a meeting with [owners Anton Forte and Jason Scott] every Monday. So first thing, is to organise meeting notes and all that kind of jazz; sales reports, they want to see what's been moving, just touching base with everything. I do my banking, rostering, and then any meetings I need to have. Then the rest of my day is things that I want to start pushing. I send out an email to the staff each week. It's all the admin stuff.
We have 10 full-timers including myself, all on full time salary. Because it's so intense every night, we try to give everybody a day shift. When the place first opened they were doing five nights a week, and there's some monster hours there — the standard is a 4pm start, and sometimes you're not out of here until 3am.
ADVERTISEMENT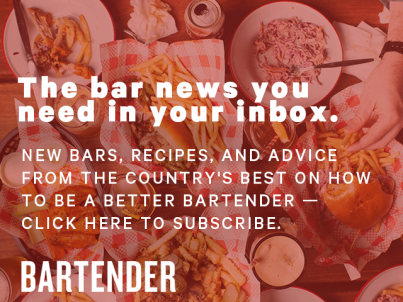 &nbsp
Everyone does a day shift, 9 to 5, and that's just set-up; they chip all the ice blocks we do for whisky on the rocks — we'd go through about 60 litres of this on a busy night. It goes into the Old Fashioned as well, and we did about 695 Old Fashioned's last week.
I'm trying to get more time in with the staff, because communication is key. When it's so busy, nobody has time for a breath and it's hard to have time to sit back and reflect and think what can we do to make things better. So we're trying to give everyone a bit of time to just sit and talk about things.
There's a lot of attention to detail, you know from the way the napkin is placed down, to all the drinks are flagged the same way when they're placed down, straws all face to the right, garnishes all the same — there's a lot of attention to detail that a lot of people probably wouldn't pick up. So when you're that anal about every single little thing, when you're constantly moving and doing things, the little things do annoy you when the they aren't done properly.
So on the Friday's now, we just sit down and talk about the service points, the little gripes that people have — that way we've spoken about it, we've broken it apart and rebuilt it. What's going wrong, why is it going wrong, and how do we make it better. I'll go grab some pizzas from Frankie's, we'll have a talk, it's like a family dinner. It's important it's done in a very positive light as well. That's really helped the service side of things.
Taking over, number one you don't want to fuck anything up. That year I took over, we were number six [on the World's 50 Best Bars], it's a bit of a burden — how am I going to top this? It was a big thing, but at the same time, I don't want to just maintain, I want to improve and do new things. I'm not somebody who likes to sit still, I want to move forward — I think if you sit still it gets tired and you fall back. I'm constantly looking at things we can do differently and different avenues we can go down.
I try and do trainings in house even two weeks, and they alternate — one is a classic cocktail session, and the other is a whisky session. So for those sessions the guys go away and they research themselves, and then we have six presenters who present for the team. So that, number one, gets them used to talking about stuff in front of people.
I'm looking at some training sessions that look at mental health as well, talking to a guy about meditation techniques. The thing is, in this environment, Dushan [Zaric] put it well, that if you have negative personal interactions too often it starts fucking with your head. And we're so busy and there's so many personal interactions there, it's exhausting, plus the 40 to 50 hours the staff are doing each week, it's very tiring. It's mentally draining. I think sometimes it's just good to be able to relax. I am very conscious of starting to do some things that destress people, because the number one thing we try to have here is good service, so we've got to have everybody on point 99 percent of the time. We want it to be welcoming, we want it to be friendly and attentive, so it's important that they're all mentally prepared for that.