Scorpion Bowl
60ml dark rum
30ml gin
30ml cognac
120ml orange juice
60ml lime juice
60ml orgeat
Flash blend all ingredients with crushed ice and serve in an elaborately garnished bowl — maybe even set the damn thing on fire.
Adapted from a recipe at Jacoby's Tiki Bar, Sydney
Story by Sam Bygrave
Photographs by Christopher Pearce
Presented by Adrian Sanchez, Jacoby's Tiki Bar
We often think of the Daiquiri as being the ultimate test of a bartender's skill for a couple of reasons: one, it's not much more than rum, lime, and sugar — ingredients that can be found in any bar; and two, the way in which those ingredients come together tells you a lot about a bartender's skill and experience.
ADVERTISEMENT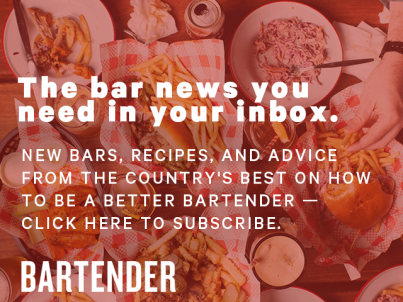 &nbsp
But at the end of the day, the Daiquiri is a three ingredient drink. Surely it takes more skill to balance a drink with more ingredients? How about a tiki drink like this Scorpion Bowl, which brings together dark rum, cognac, and gin?
One bar where you can expect them to get these things right is the new Sydney tiki joint, Jacoby's Tiki Bar, and they're kicking goals with this Scorpion Bowl.
The drink itself is said to be a recipe that famed tiki creator Trader Vic discovered in Hawaii and brought back to his bars on the US mainland, tweaking it along the way. It includes orgeat as the sweetener, which was one of Trader Vic's favourite ingredients to use, appearing in drinks like his Mai Tai and his Fog Cutter.
Trader Vic's Scorpion Bowl dates to the 1950's, but this recipe adds gin a la The Luau in Beverly Hills. In 1958 when this drink first appeared on their menu, The Luau was just about as tiki as you could get — it had a freakin' moat around the entrance for goodness' sake.
Now the recipe has found its way to Enmore, and it's notable for the flash blending technique employed to make the drink.
"A lot of these drinks are done on crushed ice, so there's no real need to shake it as such. You just want to get a little dilution in the mixture happening," says Pasan Wijesena, co-owner of Jacoby's.
So instead of shaking, the guys at Jacoby's will use a milkshake mixer to flash blend the ingredients, a tiki technique that goes all the way back to Don Beach, according to tiki writer and owner of New Orleans' Latitude 29, Jeff 'Beachbum' Berry.
"As far as I know Don Beach invented [the technique]," Berry says. "The first blended drinks were done at El Floridita in Havana under Constantino Ribalaigua, but his were more slushy drinks, whereas Don used much less ice and used the blender to chill, aerate, and dilute the drink. He could have gotten the technique from somewhere, but as far as I know he pioneered it."