With summer just around the corner, there's a slew of new places opening up right across the country. And last night, in the inner city Sydney suburb of Pyrmont, saw the opening of a new venue that promises fine poultry and liquor: Whirly Bird.
Whirly Bird comes from Anthony Prior, formerly of The Keystone Group, and it's an upbeat place where the chicken is full of flavour, the drinks are considered, and it doesn't take itself too seriously.
The bar side of things come courtesy of Rollo Anderson (whom you may remember from interviews such as this one during his time at The Rook) and fellow The Rook alum Liam Doherty-Penzer.
The go-to dishes out of the kitchen are the signature rotisserie spit roast birds and the buttermilk fried chicken, but it's the drinks we'll focus in on — the cocktail list has a musical bent to it, with the structure of the list taking its cues from a good song structure: you've got the intro, in which the lighter, aperitif drinks sit such as the Sgt. Peppers (pisco, lemon, pink peppercorn, and guava); there's the bridge, where drinks like the Dusty In Memphis (rye, citrus, Cocchi Americano, beetroot Fanta Tang) find their place; then they take it to the chorus, where the main event drinks live: the Hunky Dory sees gin lime, apricot brandy, and black cherry lemonade come together as a good complement to the chicken.
Check out the full drinks list here, and the eats here. You can find Whirly Bird at 84 Union Street, Pyrmont and they're open from Sunday to Wednesday 12pm-12am and Thursday to Saturday from 12pm – 1am.
ADVERTISEMENT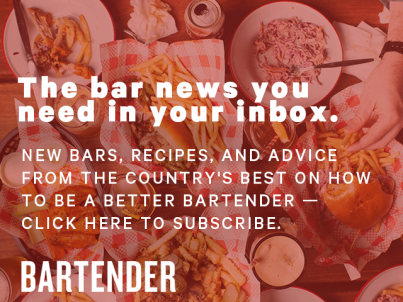 &nbsp
Take a look at the venue below.
All photos by Esteban La Tessa