Hailing from Perth, Kieran Lee is the quiet, unassuming guy you'll find behind the bar at The Barber Shop; he's the one surveying the scene and getting what needs to be done, done. But the guy knows his drinks, and — given the Gin Bar of the Year stocks some 500 types — he also knows his gin.
I worked in a drive through bottle shop which was connected to a bar. That was after I tried to do an electrical apprenticeship — I lasted three months. I found it wasn't for me. The early starts, the dirtiness of it — wasn't for me.
I went travelling, came back, and got a real job in Rockpool Perth. That's where I met David Nguyen-Luu [The Barber Shop's general manager]. I did two years, as a bar supervisor there, then went travelling again.
I came back, started working at Bobeche with Joe Sinagra — worked there for six months. That was the first time I'd actually worked in a real, high-paced cocktail environment, with the late 3am closes. It's good experience.
ADVERTISEMENT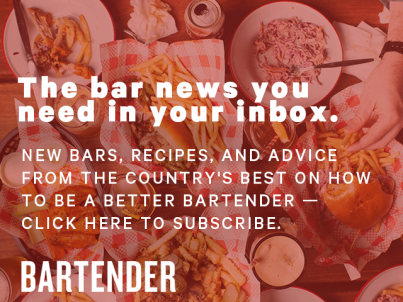 &nbsp
From there I came to The Barber Shop. The next couple of months, I packed my car up, shipped it over on a train, and I flew over. Came over for Bar Week and I've been here two years.
Working at Rockpool, I learned a lot about customer service, how to treat people properly, how to go about handling food as well. It's not as high paced at the bar so you have a chance to sit down and talk to customers about food, wine.
At The Barber Shop, our daily routine is the same as other bars, but we get pretty busy early on. Being in the middle of the city, we get a lot of office people coming around 3pm when they should be working.
From there, it's beers, wines, and then Thursday, Friday, Saturday it's cocktails, cocktails, cocktails. It's full on. Even with table service — we have two floor staff — it's four deep at the bar. It's a good thing, because we do make some pretty banging cocktails that people want to drink.
We have about 500 gins right now. I had some gin knowledge before I started, but not as much as I thought I did — coming here was a real eye-opener. You have to learn fast.
We do our best. Sometimes you can't go into too much detail about the gin making process, because it goes in one ear and out the other. All the customers want to hear about is that it goes nicely with this, it tastes like this — that's what they want to hear. You do get some people who really want to delve deep, but they know when to come in.
The Barber Shop has taught me more about the management side — dealing with guests, dealing with staff, all the back of house, all the fun stuff. I've really enjoyed learning — different cocktails, different techniques, we really get some fun stuff to play with here.
I'm not a very outspoken person, so working here has pushed me to get out there more, and I've met a whole bunch of new hospitality people. It's helped me in that aspect — it's a good feeling. I'm very reserved, especially when I first meet people — I like to listen. I like someone to tell me their whole life story and I'll sit there and listen. That's me. It's not a bad skill, but you do need that banter and it does come out. I've come out of my shell.
As told to Sam Bygrave
Photography by Christopher Pearce