They've taken their punk anti-waste popup on tour around the globe, and next month on December 3rd Trash Tiki will popup at Sydney's Ramblin' Rascal Tavern.
Kelsey Ramage and Iain Griffiths are the duo behind Trash Tiki and they've been outspoken advocates for, simply put, not wasting stuff that is tasty (their signature hashtag #drinklikeyougiveafuck gives you an idea of what they're about).
"From ramen joints to high end hotel bars, the purpose of taking Trash Tiki around the world is to see how cuisines and cultures treat food waste, which often still has loads of flavour despite putting them in the trash rather than using them," Griffiths says. "Ultimately we want to create a conversation and platform that is global in every sense of the word, full of recipes and resources that allow everyone see the breadth of potential behind the products we're wasting every day."
The collaboration with Ramblin' Rascal tavern in Sydney makes a lot of sense (there's few Sydney bartenders more outspoken than Rascal's Charlie Lehmann) and the Trash Tiki pair is looking forward to the event.
"We're really stoked to be bringing this to Sydney!" says Ramage. "Charlie and the guys at Ramblin Rascals have really helped us bring this around and we can't wait to throw a party with them. They're everything we love in a bar, killer drinks with a no bullshit attitude and some gnarly tunes to boot. We're gonna work with a load of bars and restaurants here and can't wait to see what kinda trash and drinks we come up with."
ADVERTISEMENT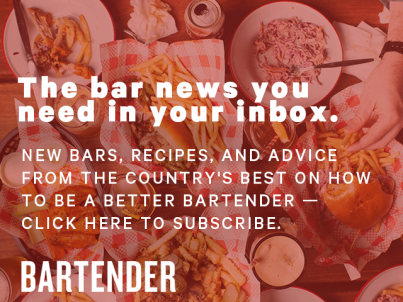 &nbsp
The event kicks off on Sunday December 3rd and runs from 5pm to 2am. Expect to see the pair making drinks with ingredients like watermelon rind cordial and lemon and grapefruit stock.
To get an idea of what the night will entail, follow them on Instagram at @trashtiki (that's where, doing away with paper menus, you'll find the drinks list for each of their popups) and hit up trashtikisucks.com to crib their recipes.