We recently brought you the news that a new Sydney bar,
Door Knock was set to open this month.
Well, they open to the public on Friday this week, and we've got a look at their first cocktail list.
Door Knock is taking over the space that once housed Norsk Dor. They've stripped away the former Nordic elements of the space, emphasising the bar, and putting a strong emphasis on fortifieds and sherry.
You'll notice the sherry list runs some 11 bottlings strong, and they're employing the oxidised wonders of Jerez on the Cocktail list, too.
The list is a result of the work of bar manager Jonothan Carr (ex-Kittyhawk) and co-owner Natalie Ng.
ADVERTISEMENT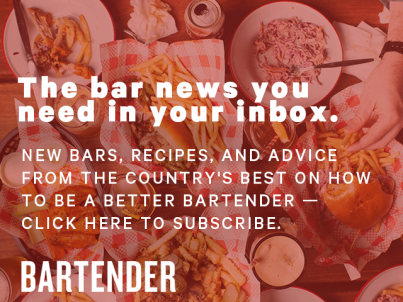 &nbsp
"The opening list we are rolling out is an extension of the venue itself and us as people," says Carr. "The venue is a comfortable space with hospitality at its core and no particular spirit focus in mind, just a solid all-rounder bar.
"So with this opening list we never wanted to reinvent the wheel but just wrap a nice tire around a set of rims that were never broken.
Carr says they've been inspired by some of their favourite bars to drink at, like Sydney bars This Must Be The Place, PS40, Kittyhawk and Brisbane bar, Maker.
"It's short, sharp and every drink has a place with the guests in mind," Carr says.
They're trying to use as much of any given produce they can to minimise waste, and sourcing fruits seasonally.
"You will see a nod to spirits that we like, fortifieds and fruits that are particularly good right now like berries, mango and especially the pineapple getting a workout in many forms, given that it's the 'fruit of hospitality' and on our emblem, it makes sense," says Carr. "As different produce becomes delicious and whenever we make up a new banging cocktail the list will change with it."
The cocktail list features nine signature serves, take a look at it below.