Kentucky Buck recipe
60ml Buffalo Trace 
22.5ml lemon juice
15ml sugar syrup
2 dashes of bitters
1 strawberry
Fever-Tree Ginger Beer to top.
Muddle the strawberry with the syrup in a shaker. Add all ingredients except the soda and shake with ice. Fine-strain over ice into a Collins glass. Top with soda. Garnish with a lemon wheel.
Recipe adapted from one by Erick Castro of Polite Provisions, San Diego.
Story by Sam Bygrave
Photographs by Christopher Pearce
Presented by Louis Macpherson, The Baxter Inn
In association with the Sazerac Company
Summer is nearly upon us, but that doesn't mean that you're confined to the lighter spirits like gin and white rum when it comes to mixing drinks; the big hearty character of bourbon whiskey still has a role to play in warmer climes.
ADVERTISEMENT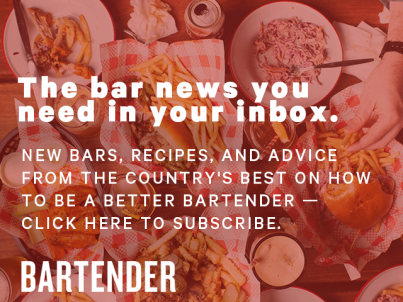 &nbsp
Indeed, there's some classic cocktails designed just for sweating it out in the sun: the Mint Julep, for one, is as refreshing a drink as you'll find.
And then there's this drink from US bartender Erick Castro, from Polite Provisions in San Diego. The Kentucky Buck has been named as a contender as a modern classic by drinks writer Camper English (you should check out the full list on his site at alcademics.com), and it's no pretender when it comes to cooling cups for summer.
It's simple, really: a healthy slug of good bourbon, lemon, sugar, and ginger beer, it's an elegant tweak on the classic Buck recipe.
The classic Buck is much like a Rickey, but with ginger beer (or ginger ale) subbed in for soda— it's a spec you can mess about with at will, knowing that the end result will be a zingy, refreshing beverage.
The Buck is a Highball, as categorised by David Embury back in his 1948 book, The Fine Art of Mixing Drinks. But where the Highball is simply spirit plus a mixer, the Buck— and the Rickey, Collins, and Mule, for that matter — is what you get when you've got a spirit, citrus, and carbonated mixer. Depending on the mixer, you'll get a different type of Highball, but taht's not the important part.
The important part is in the drinking, because, well, it's delicious.

Notes on ingredients
Buffalo Trace Kentucky Straight Bourbon is a deep amber whiskey and has a complex aroma of vanilla, mint and molasses. Pleasantly sweet to the taste with notes of brown sugar and spice that give way to oak, toffee, dark fruit and anise. This whiskey finishes long and smooth with serious depth.
The Buffalo Trace Distillery, situated on the banks of the Kentucky River, has been making whiskey on the site for over 200 years.
The brand is named for the paths carved by buffalo through the American wilderness that led explorers to new frontiers.