The competition in the 2017 Bartender of the Year sponsored by BACARDÍ & De Kuyper was closer than it's ever been this year. At the end of three gruelling rounds of competition, one new entrant joins the Bartender of the Year club: Mr Daniel Gregory.
Here, he share some advice on competing and what it means to take out the top title.
You've been to the final round a few times before, and came third last year. Was there anything you did differently this year which helped you take out the title?
Last year getting third was amazing and knowing that I could get first I put a lot into the build up. Not saying this will always work but you get out what you put in most of the time. This meant that detailed study sheets and knowing about Bacardi and De Kuyper was very important for the test. Read, read, read, it will help on the test but will make you a better bartender in the long run. And having your drinks ready before the lead up takes a lot of stress out of the comp, and work with the time that is given to you. Five mins goes faster then you can imagine.
Can you describe what the mood was like backstage with the rest of the Top 8?
Really stress free, I think? Most of the other bartenders have given it a crack before so they knew what to expect and the others that it was there first time couldn't tell. Good banter and everyone giving their two cents on how the night would go, that for me is one of the favourite parts of the whole comp.
Can you tell us a little about what it means to win the Bartender of the Year?
Being in the game for over 11 years now, this award has always had a special place in my heart. For me it's the holy grail for Australian bartenders to win and have their name placed next to the biggest names in bartending, not just here but in the world. It's still sinking in, was a very happy man that night I can tell you.
ADVERTISEMENT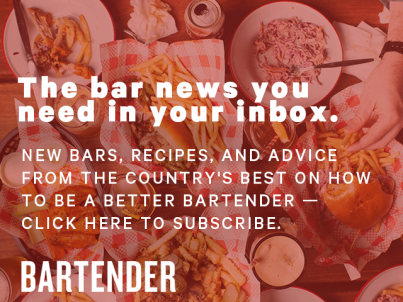 &nbsp
What would be your three pieces of advice for those wanting to attempt the competition?
Before I give 3 words of advice for the comp is that even if you don't study or think you are not good enough, that is all bullshit. Please give it a go, thats where I started and I promise you that you will grow from it. But three words of advice would be: Study, have your drinks ready even if you don't make Top 8 and enjoy yourself and learn from it. Plus there has been so many people I have met from this comp.