Summer officially begins next week, on Friday December 1st, and that means sun, beaches, and if you're lucky, some proper tiki action. In fact, if you're in Sydney's CBD, you'll definitely be getting some tikiness in your cup when new Sydney tiki popup, Lost Luau opens on Friday.
Lost Luau will trade through summer, taking over the old York Trading site on York street in the Sydney CBD, and is a collaboration between tikiphile and Sydney Rum Club founder Tom Bulmer and the owners of Burrow Bar, Chau Tran and Bryce McDonough.
The trio staged the successful tiki party during Sydney Bar Week back in September — a party so crammed there was a queue of 50 people outside unable to get in — and now they're taking that idea and running with it.
"This is all off the back end of Bar Week. Basically we said why can't we do this whole concept but bigger and for the entire summer?" says Bulmer.
Rather than opt for the traditional tiki feel of Trader Vic's and Don the Beachcomber, this celebration of tiki drinks will draw more on a Caribbean feel, with food on offer from Jamaican specialists The Island Boys and a distinct beach shack vibe in the heart of the city.
ADVERTISEMENT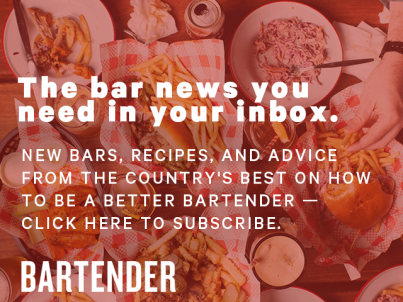 &nbsp
"We want a sort of rustic, broken down feeling, a beach touch," Bulmer says. "Still within the essence of [tiki-style] escapism but getting people off the street from the hustle and bustle and into more of a casual, fun feel."
The entrance will have a lighter feel to it, with pineapple-adorned hessian material lining the walls and stripped back timbers running past the sit down bar, leading to another room laden with colourful leis and vintage pin-up posters from the 40's and 50's.
There'll be tables available to sit down for restaurant service, much like the tiki venues of old: Don the Beachcomber and Trader Vic were all nominally restaurants where the food was as much a part of the offering as the bar.
"We're going to be doing Caribbean bites, but we'll be serving it with chopsticks Don the Beachcomber style, just with more tropical flavours — coconut prawns, calamari and things like that," Bulmer says.
The focus of the cocktails to begin with will be classic tiki cocktails. "There is a lot of drinks that we want to show, most will be tiki classics or variations thereof. The first menu will be classic tiki cocktails and cocktails that people know," says Bulmer.
"The first [cocktail list] will be establishing that we're here to make tiki drinks the right way," says McDonough. "We want to show people just how good they can be done the right way."
"As much as we know about tiki, at the end of the day the consumer knows very little so that's why we're going more towards that beach feeling," Bulmer says. "The thing they do know is a Pina Colada, a Mai Tai, a Daiquiri."
If you work at one of the bars in the Sydney CBD then they want your business on your break — you'll be able to get a cocktail and quick bite with time to spare to get back to work.
Lost Luau opens next Friday on December 1st and will trade all the way through summer, from Monday through to Saturday. You can find their little slice of tiki paradise at 28 York Street, Sydney and check them out on Facebook here.