The competition in the 2017 Bartender of the Year sponsored by BACARDÍ & De Kuyper was closer than it's ever been this year. At the end of three gruelling rounds of competition, one new entrant joins the Bartender of the Year club — this year it was Daniel Gregory.
And in third place this year — in his first ever attempt at the Bartender of the Year — was James Irvine, the group beverage director for Swillhouse (The Baxter Inn, Frankie's, Shady Pines, Restaurant Hubert) in Sydney.
We knew already that Irvine has a way with drinks — the Pastis Fizz he created for Restaurant Hubert was just about our favourite drink of 2016 — but it was his off the cuff banter on stage whilst presenting his drinks in front of 600 people at the Bartender Magazine Australian Bar Awards that saw him as a crowd favourite for the competition.
Below, grab. some advice from Irvine on how to compete in the Bartender of the Year.
ADVERTISEMENT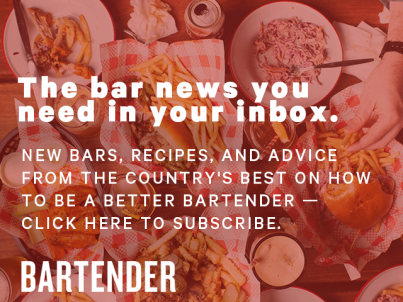 &nbsp
James Irvine – Swillhouse, Sydney
This year was your first year taking on the competition and you went all the way to the Top 3 — can you tell us a bit about how you felt up on stage?
Being on stage was cool. Having a room of 600-plus people watching you make two drinks sounds ridiculous, but hey. It happened. I had a lot of fun talking about a couple of drinks that I really liked and even chucking in a joke or two. I had a great time.
Tell us how you approached the chat for the final round?
That's right, no script! I didn't expect to make it into the Top 8 and present drinks. I had confirmation via a phone call around 8pm the night before Bar Awards. I went through a back catalogue of drinks on the backburner for upcoming menus and R&D, so went with those. Regarding the chat, I think that if I had tried to script anything I wouldn't have done it justice, would've forgotten lines and probably ended up dribbling on stage… which I did anyway.
What advice would you have for newcomers to the competition?
Read up, knowledge is power! Also, taste test everything.
Will you be back next year to take out the top prize?
If you guys will let me.