The Martini is the perfect vehicle for delivering some straight-up, let's-not-muck-about great tasting booze to your face; here's six variations on the Martini recipe you can use as inspiration to create your own riff.
We were looking at the drinks for the forthcoming Duke of Clarence, which is set to open next week, and since seeing their riff on the Gibson haven't been able to get Martinis off our mind.
Yes, we could whip up a classic Martini, wet or dry, but we thought we would take a look instead at a few of our favourite variations on the Martini that go beyond the classic formulation. some of them are old, some of them are new; some of them employ vodka, and all of them are delicious.
Take a look below.
ADVERTISEMENT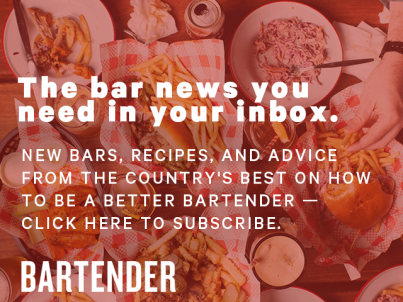 &nbsp
Tuxedo cocktail recipe
60ml London dry gin
30ml fino sherry
1 dash of Angostura orange bitters
Stir all ingredients on ice and strain into a chilled cocktail glass. Garnish with a lemon twist.
You'll find a couple of different Tuxedo cocktail recipes: one, from the 1934 edition of Harry Johnson's Bartenders Manual (and published a year after his death), sees the Tuxedo as a wet Martini, tricked up with fancy flourishes of absinthe, maraschino, and bitters. It's like an Improved Gin Cocktail, with the addition of vermouth and served up.
Then you'll find this version: drawn from the 1935 Old Waldorf-Astoria Bar Book, this take on the Tuxedo hews closer to a Dry Martini, with the substitution of sherry for vermouth.
The book notes that this cocktail was named for the Tuxedo Club, in upstate New York, whose members often frequented the Waldorf-Astoria bar. And it was at the Waldorf, reckons cocktail historian David Wondrich, that this cocktail was likely invented.
Clubland
45ml elit by Stolichnaya vodka
45ml dry white port
1 dash of Angostura aromatic bitters
Stir down all ingredients and serve up.
Just when you thought you'd exhausted all the classic vodka cocktails worth knowing about, here comes another one.
This Clubland Cocktail dates to 1937's Café Royal Cocktail Book, put together by William J Tarling. There's some 24 or so vodka cocktails in Tarling's book — many of them poor and not far removed from the worst of the 1990s obsession with vodka — and one of the most striking is this one.
It's a Wet Vodka Martini variation, quite simply. But it employs port — dry white port — and a dash of Angostura aromatic bitters.
The Gibson
45ml gin
15ml dry vermouth
1 pickled onion
Stir down the spirits with ice. Strain into a cocktail glass, garnish with the pickled onion.
There's something about the pickled onions which cuts through this drink — it's a refreshing, savoury take on the Martini if you ask us, and one well worth sampling if you've never had one before. Just make sure you're using good booze and good onions — it makes a world of difference.
The Martinez
20ml gin
40ml sweet vermouth
10ml maraschino liqueur
Dash bitters
Stir down over ice, then strain into a cocktail glass. Garnish with a lemon twist. Adapted from a recipe circa 1887, The Bon Vivant's Companion.
No one really knows who invented the Martinez. Big shock there. Some say it's named for a guy called Martinez who whipped together some gin and vermouth. Others credit it to the Granddaddy of all things bartending, the Professor Jerry Thomas who created it for a fella who travelled to Martinez, California every day. It doesn't actually appear in Thomas' original 1862 printing of How to Mix Drinks or the Bon Vivant's Companion but then it appears in the 1887 edition, which has led to speculation as to its true origins. So when there's a question, who better to ask than the erudite cocktail scholar, Mr Dave Wondrich. He says that theories surrounding the Martini/Martinez fall into two camps: the "martinez" group claims the drink(s) were invented in or near San Francisco, while the "Martine/Martini" theories call New York the home of the Martini. Wondrich is certain that Jerry Thomas wasn't responsible for the blend noting that it appeared two years after his death in a later 1887 edition of his Bartenders Guide. According to Wondrich The Martinez first appears in O.H. Byron's 1884 Modern Bartender's Guide, though without any mention of its origins.
Whether or not the Martinez came first, and the Martini spawned from it, the more important fact is that they both came to the fore in the late 1860s and into the 1870s, when vermouth became a common ingredient in American cocktails. Direct from Italy, it was the sweet Italian vermouths that made the first big splash (accounting for the Martinez. Dry or French vermouths started trickling in a few years later, with bar goers ordering mixes of the two styles in their drinks – this mix was called 'perfect'.
Jangling Jack's House Martini
45ml dry gin
15ml dry vermouth
2 dashes of orange bitters
Big, big grapefruit twist
Stir down all ingredients and serve up in a cocktail glass. Garnish with the grapefruit twist. Adapted from a recipe at Jangling Jack's, Sydney.
This Martini is a simple twist on the classic Martini from Sydney bar, Jangling Jack's. They don't mess about with it too much: a couple of dashes of orange bitters, a fat grapefruit twist, and you've got the house Martini. More proof that the simplest tweaks are the most delicious.
Turf Cocktail
30ml gin
30ml dry vermouth
2 dashes maraschino liqueur
2 dashes bitters
2 dashes absinthe
Stir and strain into a chilled coupette. Garnish with a lemon twist.
The history of the Turf Cocktail is a murky one, with different versions popping up in different books from way back — Harry MacElhone has a version of it in his Harry's ABC of Mixing Cocktails from 1922 (similar to Harry Johnson's in the 1934 reprint of his Bartender's Manual), but the first mention of it goes back to George Kappeler's Modern American Drinks in 1895.
Atlas Signature Martini
60ml Ford's Gin
15ml Mancino Bianco Ambrato Vermouth
2 dashes Scrappy's Orange Bitters
5 dashes of champagne vinegar
Stir all ingredients with ice and strain into a chilled cocktail glass. Garnish with a zest of pomelo (discarded), then a lemon twist. Recipe by Atlas Grand Lobby & Bar
This is the house Martini at Singapore's Atlas; the champagne vinegar gives a fruity, floral character as well as some acid and bite; the pomelo zest provides a local touch.