WWith summer beginning tomorrow and spring well and truly sprung, we know you're been busy keeping the public hydrated and comfortable — but there's been a lot of news happening this month: a new ice supply company for Sydney, new bar openings on the way, and much more.
So in case you missed them, here's the six top reads from the month of November.
1. Baxter Inn alumni behind new ice supply company, Bare Bones Ice Co
Two Baxter Inn alumni have just launched the new Sydney ice supply company Bare Bones Ice Co.
Damien Liot and Simon Weiss have taken space in a warehouse in Alexandria and installed all the equipment you need for a high-quality ice supply operation — think chainsaws, bandsaws, and two Clinebell machines which produce 150 kilogram blocks of crystal clear ice — which will make them the only hospitality-dedicated ice supply company in Sydney.
ADVERTISEMENT
&nbsp
Click here to read the full story.
2. Here are all the finalists for The Perfect Blend 2018
With nearly 500 entries submitted, deciding upon The Perfect Blend finalists for 2018 was no easy task.
10 judges on the panel completely blind-judged each individual entry – and it's now time that we reveal to you those who were fortunate enough to progress to the next round: The State Finals.
Click here to read the full story.
3. New Sydney tiki popup Lost Luau to open next week
Summer officially begins tomorrow, on Friday December 1st, and that means sun, beaches, and if you're lucky, some proper tiki action. In fact, if you're in Sydney's CBD, you'll definitely be getting some tikiness in your cup when new Sydney tiki popup, Lost Luau opens on Friday.
Lost Luau will trade through summer, taking over the old York Trading site on York street in the Sydney CBD, and is a collaboration between tikiphile and Sydney Rum Club founder Tom Bulmer and the owners of Burrow Bar, Chau Tran and Bryce McDonough.
Click here to read the full story.
4. Here's what to expect from the drinks when Duke of Clarence opens next week
We brought you the news back in August that Mike Enright and Julian Train, the owners behind Sydney's award-winning gin bar, The Barber Shop, were opening a new bar next door named The Duke of Clarence.
Well, they've been hard at work renovating the site and it's all coming together, with the doors due to swing open next week. When those doors do open, you'll find a small, intimate bar that harks back to Victorian-era UK, the kind of small local boozer you'd expect to find down a narrow cobblestone street in London — just with heaps better booze.
Click here to read the full story.
5. Meet the 2017 Bartender of the Year, Daniel Gregory
The competition in the 2017 Bartender of the Year sponsored by BACARDÍ & De Kuyper was closer than it's ever been this year. At the end of three gruelling rounds of competition, one new entrant joins the Bartender of the Year club: Mr Daniel Gregory.
Here, he share some advice on competing and what it means to take out the top title.
Click here to read the full story.
6. This Kentucky Buck recipe is a modern classic in the making
Summer is nearly upon us, but that doesn't mean that you're confined to the lighter spirits like gin and white rum when it comes to mixing drinks; the big hearty character of bourbon whiskey still has a role to play in warmer climes.
Click here to read the full story.
ADVERTISEMENT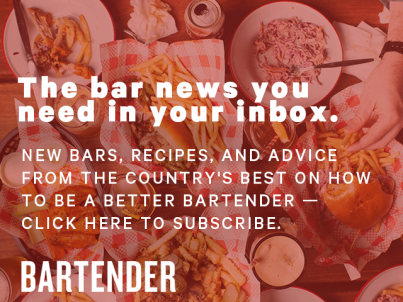 &nbsp