The competition in the 2017 Bartender of the Year sponsored by BACARDÍ & De Kuyper was closer than it's ever been this year. At the end of three gruelling rounds of competition, one new entrant joins the Bartender of the Year club — this year it was Daniel Gregory.
Next in our series of tips and advice from this year's stellar Top 8 (we've already heard from Jonothan Carr, James Irvine and Tom Loosli) comes Priscilla Leong from The Baxter Inn, one of the world's best bars and this year's Bar of the Year.
What are your tips for getting through the Mystery Box round? It piles on the pressure time-wise, correct?
I don't think you can really prepare for this round. Time is definitely of the essence as you only have one minute to study your ingredients and the space behind the bar and it is imperative to be able to think clearly under pressure. If you read and try lots of recipes and are familiar with how most things taste then it shouldn't be too hard when it comes to pairing flavours as and when you see the ingredients in front of you. You are basically required to do what you do every day when working in a busy bar; put up two drinks in two minutes, only you'll be in a bar you've never made drinks in before, using equipment you've never used and you have to make up one of the drinks on the spot. Easy right?
How far out do you prepare your Top 8 drinks — what advice do you have when it comes to these?
This is a very personal question and I think I'd be the worst person to ask for such advice as I often like choosing the most difficult product to work with out of the range of options that we are given. I enjoy the challenge of using something overwhelmingly difficult to work with and creating a new flavour combination with it. I have never had a set plan for how far out to start thinking about this stuff but as soon as I find out which products are allowed for the competition, I then start jotting down some ideas on flavour combinations. Unfortunately, because one is never sure about getting into the final round, it's not really worth finalising a drink until you find out you're in. My one piece of advice for anyone that does it would be that five minutes goes awfully fast when you are presenting in front of five hundred bartenders so don't attempt anything that's going to put you under too much time pressure to get your drinks up. Be mindful of the guests/judges that you may be serving and create drinks that you enjoy drinking and sharing with others.
ADVERTISEMENT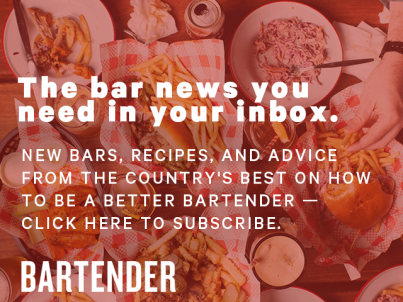 &nbsp