It's not often that you see a venue get turned around in 10 days, but that's what the owners of new Sydney popup Lost Luau have just done.
We brought you the news last week that Lost Luau is a collaboration between tikiphile and Sydney Rum Club founder Tom Bulmer and the owners of Burrow Bar, Chau Tran and Bryce McDonough.
You can check out what to expect at Lost Luau here.
Now, the doors are open and they're pumping out banging tiki classics like the Pearl Diver, Zombie, Pago Pago and more.
Rather than opt for the traditional tiki feel of Trader Vic's and Don the Beachcomber, this celebration of tiki drinks draws more on a Caribbean feel, with food on offer from Jamaican specialists The Island Boys and a distinct beach shack vibe in the heart of the city.
ADVERTISEMENT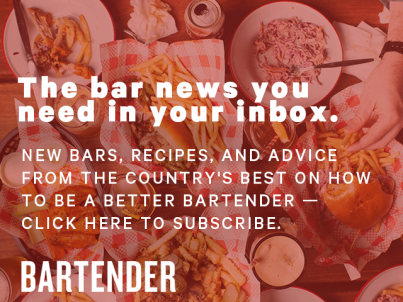 &nbsp
"We want a sort of rustic, broken down feeling, a beach touch," Bulmer says. "Still within the essence of [tiki-style] escapism but getting people off the street from the hustle and bustle and into more of a casual, fun feel."
Pineapple-adorned hessian material lines the walls and stripped back timber high tables run past the sit down bar, leading to another room laden with colourful leis and vintage pin-up posters from the 40's and 50's.
And there are tables available to sit down for restaurant service, much like the tiki venues of old: Don the Beachcomber and Trader Vic were all nominally restaurants where the food was as much a part of the offering as the bar.
Take a look Lost Luau below, and do yourself this favour when you go in: eat the jerk pork — you won't regret it.
Lost Luau is open now at 28 York Street, Sydney.