The competition in the 2017 Bartender of the Year sponsored by BACARDÍ & De Kuyper was closer than it's ever been this year. At the end of three gruelling rounds of competition, one new entrant joins the Bartender of the Year club — this year it was Daniel Gregory.
Next in our series of tips and advice from this year's stellar Top 8 (we've already heard from Jonothan Carr, James Irvine, Priscilla Leong, and Tom Loosli) comes Queensland's Kal Moore, who this year entered the Top 8 for the fifth time.
Hear from him below.
This year was your fifth year through to the final round — it's quite an achievement. What's it like to be a veteran of the Top 8?
I think it just makes me feel old, to be honest mate. When we sat down this year to do the exam, I sussed the room out to see who the weapons were — who the competition was going to be this year. I didn't think that I was going to be one of those weapons at all. I guess this year made me realise just how long I've been in the game, and how many generations of bartending I've lived through. When I first competed, I was surrounded by the guys who I'd been learning from and idolising, I guess. Now it's just like hanging out with a bunch of mates that I haven't seen for 12 months. We catch up, talk some shit, drink a bunch and inbetween all of that we do a bartending comp.
What was the Top 8 group like this year? How tough was the competition?
Honestly mate, like every year, I wasn't sure I was gonna be in the Top 8. The Top 16 group is always the most nerve racking, because there's no matter of preparation you can go through to ensure you'll be in that final crew, and there were some fucking great competitors in that second round this year. To make it through with this group of bartenders (again, mostly) was a pleasant surprise. It was anyone's game leading into the 8, so yeah, very tough. Being up against people like DG [Daniel Gregory], Paul [Hammond], Priscilla [Leong] and Joe [Sinagra] again, as well as Jimmy [Irvine], Tom [Loosli] and Jono [Carr] for the first time… Mate, very tough. Legends, all of them.
ADVERTISEMENT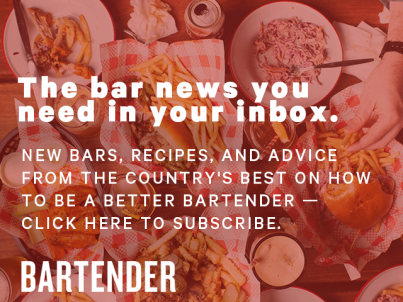 &nbsp
You're always the first to finish the exam — how much do you prepare for it?
Hahahaha… I don't really prepare at all anymore. The key is to have a photographic memory and spend a bunch of time reading nothing but cocktail books and other people's notes before competing for the first time. Before competing back in 2010, I spent probably six months reading everything and anything that came my way, and all that info is still kicking around the back of my lizard brain. I'll read the mags once or twice in the lead up to the test, but that's usually it. I've never struggled with exams, it's where my strengths lie. It's the rest of the competition that's a challenge.