Words by Jeff 'Beachbum' Berry
When De Kuyper asked me to come up with drinks for our "The Works" Australian tour last August, the first De Kuyper expression that I knew I wanted to use was blue curaçao. Everyone turns up their nose at blue drinks — but everyone orders them. And there's nothing more "Tiki" than a drink that's the same colour as the tropical waters of the South Pacific.
As my starting template I used the Golden Tulip, a 1980s drink by Gerry Kooyman of the Hotel Pulitzer in Amsterdam. It mixed orange curaçao with apricot brandy, lemon and orange, so I knew those flavours worked together. I swapped in blue curaçao for the orange, then dashed in D.O.M. Benedictine to add both another layer of flavor and the extra body the drink needed.
Since the drink's colour was ocean blue, and I made it for my maiden voyage to Australia, I gave it the same name as the title of the 1977 film directed by Peter Weir, one of my favourite Australian directors.
ADVERTISEMENT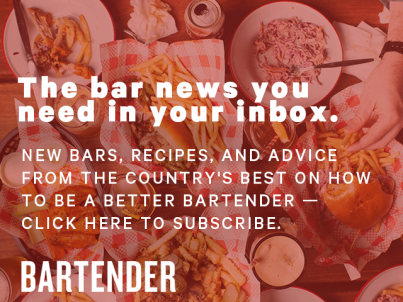 &nbsp
Take a look at the recipe below.
The Last Wave
20mls De Kuyper Blue Curacao
20mls De Kuyper Apricot Brandy
40mls 42Below Pure Vodka
Barspoon DOM Benedictine
20mls Fresh Lemon Juice
20mls Fresh Orange Juice
Shake all ingredients with cubed ice. Strain into a tiki mug filled with crushed ice.
Garnish with an orange and lemon wheel.
Recipe by Jeff 'Beachbum' Berry.