You may have heard the concept – if you haven't you're missing out. Trash Tiki has already visited 40 countries, and now it is Australia's turn.
The initiative aims to educate those in the cocktail industry on how their would-be waste can be reused in service. The pair are promoting their message through a website forum and a punk inspired pop-up bar, and have teamed up with The Blends of the World for a tour in Feb 2018. Bartenders can head online to www.the-blend.com.au to sign up to the seminars/ events when it hits their city, to learn how implementing sustainable practices behind the bar can reduce waste and save a pretty penny (or two). In each city they visit, the duo is also hosting a seminar to explain the concept and idea behind Trash Tiki, minimal waste techniques, and a chance to taste some delicious sustainable cocktails.
Kelsey Ramage and Iain Griffiths are extremely well known in the international bar scene. As the former General Manager at Oakwood in Vancouver and one of the current head bartenders at Dandelyan in London, Ramage is at the top of the bartender game. It was while working at this renowned British bar, the 'World's Best Cocktail Bar' as awarded by the 2017 Spirited Awards, that Ramage met Griffiths. Alongside Ryan Chetiyawardana, Griffiths co-founded Mr. Lyan Ltd., the enterprise behind White Lyan and Dandelyan. He is also an accomplished bartender in his own right. You may have heard of him once or twice.
It was whilst clearing the carnage left from another hectic weekend behind the bar at Dandelyan that Ramage and Griffiths had an idea. What if the wasted by-products of cocktails could be turned into more flavoursome and original concoctions? Thus the premise behind 'Trash Tiki' was born.
ADVERTISEMENT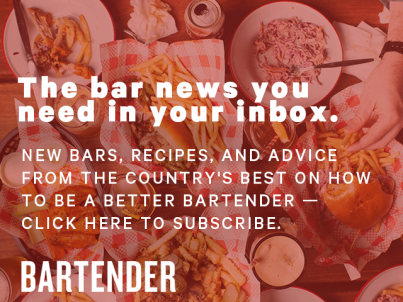 &nbsp
Let's talk trash with Iain and Kelsey.
You've been travelling across the globe, taking Trash Tiki to many different cities; could you briefly give us an overview of what events you've been hosting and where you have been?
We started in Asia, with pop-ups in Singapore, Seoul, and Hong Kong. We always make time in each region to have a few days to travel around and check out new places as well, so had some time in Osaka and Tokyo too. The North American leg was next, covering 11 cities from Miami to New York, Vancouver and LA, before bouncing into Guadalajara and Mexico City and then back to London and Berlin. In each city, we ask the bar to save their typical would-be waste from a weekend's prep, and also look to local businesses for their possible waste. Places like local cafes and juicers, to other cocktail bars so we could pull together different fruit pulps, maybe day-old pastries, coffee grounds and the like. Anything we can get our hands on really.
We use the two days leading up to the pop-up to process them into tiki-style cocktails. We then throw a pop-up that lasts between one to three days, play punk music, and on one of the days give a seminar for bartenders that explains who we are and what we do. Also, we give a sample of the cocktail to hopefully give them a little inspiration as to what they can do in their own bars to reduce waste and save a bit of money.
What has been the ultimate highlight of the world tour so far?
I don't know if we could pinpoint it down to just one moment, but definitely seeing how much people are really listening to what we're doing has been truly awesome. The response from the community has been amazing, for example in Asia all the bartenders are on one WhatsApp thread for each city, and they used it to help us bring together our waste and notify each other that we were in town. As the tour gained momentum in Canada and the US, we saw more and more bartenders coming down for our talks and then using the recipes we upload in their cocktail programs before posting it on social media. There was one bartender from the Island of Curacao, somewhere we've never been, using our curacao recipe! Its pretty amazing to see the reach it's had.
Did you ever expect Trash Tiki to gain momentum like this?
Honestly, we initially only started it as an online resource and forum for bartenders to have a starting point in terms of recipes. All the recipes we do are simple and don't require any fancy equipment to execute, so anyone, anywhere can do it. After the first few pop-ups though, we realised there was more demand for them than we originally planned. A global tour started to take form and we decided to take the show on the road, where we could play the music we wanted and start breathing some life back into the word 'sustainability'.
How are people taking to the concept of 'Trash Tiki?'
We always have a few tiki-shirted naysayers who say we're not really 'Tiki', but they seem to have become fewer and fewer as we go along. I think the most significant hurdles are always the people who walk into their local bar expecting to have what they usually have, and we've completely taken over the space. Once we explain the concept and they've had a few of our drinks though, they leave really excited or inspired by what we're doing. It's very cool to see. Although the word 'Trash' in Asia does have some seriously negative connotations that we had to explain our way through! While most of our audience is industry-based, throughout the tour we've seen a wider range of people hearing about us and coming into the pop-ups to check out what it is that we're doing.
What can we expect from your tour within Australia in February 2018?
We will be starting a new angle that we're in the course of testing out now in South America. Because we will be in a climate that produces some amazing produce, we really want to use some local Australian ingredients in multiple ways. That has always been the Trash Tiki way, doing away with single-use ingredients in favour of multiple uses and numerous flavours. Locality in any market is so important, not only do you get to feature what the area produces, but also use it in various interesting ways. We also will be working alongside some incredible chefs who carry the same respect for local ingredients as we do so, in turn, we can learn from each other and really come out with some fun and interesting pairings.
We think this new direction of bringing together food and drink will give us some fun and interesting flavours. It will be the only time that we have been able to partner with some amazing chefs, and will be the very last leg of our tour. While we are planning the next project, this will be the last chance to see Trash Tiki in full force!
Iain, you just won at the W50BB awards in London the accolade 'Bartenders Bartender.' What does this mean to you?
It was a wonderful and lucky acknowledgment of the people and bars I have been lucky enough to work alongside these past few years. I was pleasantly surprised that it was something that was voted on by the other 50 Best Bar nominees as well.
How are you both coping with all the travel?
We always make time in any given city to rest, have some time to ourselves and check out the city. It would be a real shame at the end of this to feel like we were too busy to check out what the city had to offer, and to check out the bars in each place. We made sure to schedule in escaping to a few other cities off the tour that we really wanted to check out. While sometimes the tour has gotten intense, we always make sure we put our well being first.
Want to attend the seminar in your state? Ask your local The Exchange Ambassador for the deets or log on to www.the-blend.com.au and head to 'whats on' page to sign up.