Excuse the pun, but this is a cracker of a drink. Take a look at Continental Deli Bar Bistro's My Whey.
You may know Newtown's Continental Deli Bar Bistro for their tinned goods, be they tinned sardines, anchovies, or the tinned cocktails they made famous: the Mar-Tinny and the Can-hattan among them.
The drinks have always been fun and most importantly, tasty — and that's in large part down to bar manager Michael Nicolian who not only is one of the nicest guys in the Australian bar business, but he also has one of the best palates going around.
So when he came up with this drink, we just had to get the specs and thinking behind it.
He's using whey that is a by-product from the kitchen, and is making a syrup from crackers and sugar. "The flavour profile just fit really well in a milk punch and using cognac was a natural fit," he tells us.
ADVERTISEMENT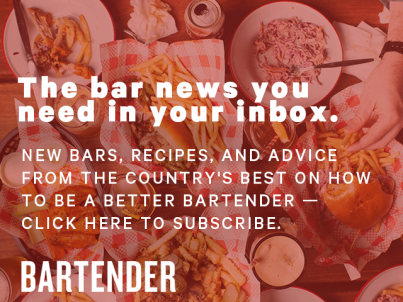 &nbsp
Take a look at the specs below.
My Whey
45ml cognac
60ml whey
15ml misura cracker syrup
Garnish with a paper thin slice of comte cheese.
Recipe by Michael Nicolian, Continental Deli Bar & Bistro, Sydney