Los Angeles has long been seen as a flashy town of nightclubs and pool bars for the beautiful people. But times change; there are some white-hot cocktailing dens making their mark.
Story by Amy Spanton
It's huge. And hot. And its population (the greater area) is the same as the whole of Australia. It's so fricking big it can feel insurmountable. Especially when you want to check out some of the city's best new bars. It took us 40 minutes in an Uber to go from Hollywood to West Hollywood. I mean, WTF? It's the same suburb, right?
Traffic and size issues aside, LA has come a long way in the last few years. Its rep as being a cocktail wasteland has been on the mend and there are plenty of good joints serving up fine spirits and cocktails in a burgeoning industry that's worth being a part of. And a big part of the appeal – for all you travelling bartenders — is the opportunity to make a stack of cash. This is LA, after all — the flashiest, cashiest city of them all.
We recently made a stopover in LA and had the pleasure of running into Mitch Bushell who is now working for Las Joyas Del Agave. You may know him from his recent Facebook Live boxing gig, his ambassadorial stint with Monkey Shoulder and more recently his bartending at Curtis Stone's restaurant Gwen in LA where he was named one of the town's top 'tenders by Thrillist. He is definitely in the know and he gave us some tips on the hot new digs to check out in town, so here's the lowdown on our night in LA.
ADVERTISEMENT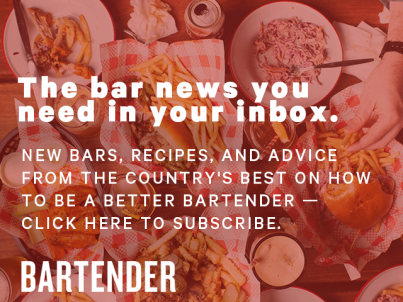 &nbsp
Rudolph's Bar & Tea
416 West 8th Street
freehandhotels.com/los-angeles
You may be familiar with the Freehand Hotel brand (part of the Sydell Group). They have properties in Chicago and Miami and they are slated to open a New York hotel in 2018. The concept is to create an upscale hostel for what they describe as "a new generation of urban travellers". Most of the 226 rooms in the Freehand LA are private, but 59 are shared. They even have bunk bed rooms. This is a far cry from the YMCA at Central Station and it means you can save some of your pennies for your bar tab.
The hotel opened in only March this year and features a host of restaurants and bars (including the Broken Shaker rooftop pool bar – but more on that later).
Gabriel Orta & Elad Zvi of Bar Lab (a bar consultancy with a fine drinks rep) introduced a new cocktail concept in the hotel's lobby, called Rudolph's Bar & Tea. The name is a nod to Rudolph Rosenberg, once the owner and operator of the Commercial Exchange Building where Freehand now stands. Set in the building's original foyer, the relaxed bar has an almost Nordic look with its blonde wood finishes but boasts a menu focused on tea-infused cocktails and snacks from Israel.
Broken Shaker
416 West 8th Street
Freehandhotels.com/los-angeles
The opening of this outpost of Broken Shaker in September was long-awaited and super-hyped. And if you're into rooftop pool bars with sweeping city views then it doesn't disappoint. Freehand again brought in the brains behind Broken Shaker Miami and Chicago – Gabriel Orta & Elad Zvi – to work their magic with this new incarnation and build on the success of the brand. Broken Shaker Miami has been a big hit since opening in 2012 winning a slew of awards including the 2015 Best American Hotel Bar at Tales of the Cocktails Spirited Awards.
Sticking with its relaxed vibe, Broken Shaker is like a little tropical holiday in the heart of downtown LA with its pink pool loungers, potted plants, fruity table cloths and colourful murals. The cocktails are also tropical, fun and a little bit eccentric. Highlights include the Coco-Nutcase (Tequila Cabeza, Clement Mahina, kaffir lime agave, coconut, lime, sea salt) and the Recusal Cup (Pimm's shrub, Lillet Rouge, Grey Goose, citrus and ginger ale) which is topped off with a pipe cleaner flamingo. Food is of the Asian street variety with highlights including a perfect, chicken yakitori mixed grill, vegetable egg rolls and guacamole with peanut salsa.
The downside? You can't swim unless you're a guest at the hotel so book a bunk and you can lounge on a lilo all day long.
The Normandie Club
3612 West 6th Street
Thenormandieclub.com
The Normandie Club is the newest venture by 213 Hospitality and Proprietors LLC. In the US, these guys are a bit of a big deal with venues such as Death & Co. NY and Honeycut LA on the resume.
Normandie is located on the ground floor of the refurbed Normandie Hotel, an iconic hotel in Koreatown that dates back to 1926.
We were told that the cocktail list was the bomb and it didn't disappoint with a concise list of seven drinks paying homage to the classics. The Spritz (dry vermouth, St Germain, Grapefruit, lemon juice, soda and something called 'mixed blessings') was the perfect tonic for a hot afternoon pounding the pavement in LA. But you can also get a bit more serious with a Rye Manhattan or a Bloody Mary made with aquavit.
Koreatown is a bit of a nightlife and dining hub so bars fill up fast. On Fridays and Saturdays you will need to get in early to secure a seat. The staff are friendly and unpretentious and it lacks some of the uppity 'guest list' protocol that LA is well-known for. And if you're a bloke make sure you take aim at Donald Trump's face when you go to the gents room.
The Walker Inn
3612 West 6th Street
thewalkerinnla.com
Hidden at the back of the Normandie Club is a little secret cocktail bar treasure, The Walker Inn. Make sure you get a reservation (go to the website and book two weeks out) as the room has a capacity for only 27 people. But if you're on the list, you press the red doorbell at the back of The Normandie Club and you will be ushered into a cocktailing haven.
At the bar (and exclusively for those that have a reservation) they serve The Walker Tasting menu which is all about modernist cocktailing techniques. They take a core theme and build a list around it which is offered for about six weeks before rotating to a new theme. When we were in town the autumn menu was about to launch featuring the 'Cranberry Sauce cocktail topped with a sage tea fog' and the 'Apple Picking with Brown Butter Apple Brandy, Honeycrisp Apple & Lemon Juices, Fino Sherry, Salted Caramel and a donut'.
It's not just crafted cocktails on the menu. If you're not at the bar you can choose a drink from The Book, a collection of classic cocktails done in the house style. This is a must-visit spot in LA and one of the few venues offering a real speakeasy vibe.
Tropicana Bar
at the Hollywood Roosevelt
7000 Hollywood Blvd
Thehollywoodroosevelt.com
Known for its epic pool parties this has been the place to see and be seen in LA. If you can score yourself a poolside seat on the weekend then this is the best spot to ogle the beautiful people and drink super expensive drinks. We expected oodles of attitude but were pleasantly surprised by the very helpful and attentive staff. Good news is that you don't have to be a guest to swim in the pool, you just have to order some food and drinks. Highly recommend popping in, even if it's just for a drink, as it's wall-to-wall nutters on Hollywood Boulevard and the hotel is a sanctuary from the hawkers.
Lono Hollywood
6611 Hollywood Blvd
Lonohollywood.com
This fancy tiki joint which opened in June this year is a labour of love for owners Austin Melrose and Zach Patterson (of Melrose Umbrella Co and Corner Door) who have long had a love affair with tiki culture.
Named for the Hawaiian god of rainfall, you might be expecting some kitschy tiki mugs and posters from the Pacific but this is tiki pared back and classed up. Owner, Austin Melrose teamed up with M Winter Design to fuse old Hollywood and tiki touches like can chairs and big green leaf prints to bring the Pacific to a new generation. Hidden away from the craziness of Hollywood Blvd, the bar is discreetly hidden and manned by a burly doorman. Once inside you'll find two distinct spaces. The first is warm and cosy – with low lighting and low ceilings – perfect for snacking on the far east flavours from award-winning Chef David Lespron and tiki drinks from Beverage Director Mike Lay. Drinks are a tribute to tiki gods Don the Beachcomber and Trader Vic with all the classics including the Pain Killer, the Suffering Bastard and the Ring of Fire. There are also some Lono twists including the Hubba Hubba (Avua Cachaca Amburrana infused with coconut, banana, pineapple, coconut, and Banana Gelato), and the Samoan Fog Cutter (Aged Rhum Agricole, Guyanese rum, Pisco, Gin, Amontillado Sherry, fresh lime, Cara Cara orange, orgeat and cinnamon). The space out the back opens up to grandiose proportions, with huge white archways, black and white upholstery, and a tented roof with a glass canopy looking up to the night sky. This is old glam Hollywood and is jam-packed on Friday and Saturday night with the beautiful people.
Musso & Frank Grill
6667 Hollywood Blvd, Hollywood
Mussoandfrank.com
Step outside of Lono and you can't miss this old diner on Hollywood Blvd. Opened in 1919 and carrying on a menu and interior from that era, this is a step back in time. This is not farm to table stuff and there is no dry ice behind the bar. Here you get your jellied consommé, braised oxtail and jardinière sweetbreads. The most ordered item here is filet mignon, cooked over an open-fire mesquite grill that has been seasoned for more than 30 years. Also popular is the Grenadine of Beef, which has been on the menu since the early 1920s. On the drinks front you have to have their Martini which is stirred and served with a sidecar on chilled ice. From servers in red suits, red carpet and wood-panelling on the walls, this restaurant has seen Hollywood in all its different incarnations and managed to stay the pretty much the same.
Old Lightning
2905 Washington Blvd, Marina Del Rey
Oldlightning.com
Unfortunately we missed out on checking out this bar which is the talk of the town in terms of serious cocktailing. From Steve Livigni and Pablo Moix's, Old Lightning is a small 25-seat serious cocktail bar hidden behind a huge restaurant in Marina del Rey (which is just next door to Venice Beach). Definitely worth making a reservation if you're in the area.