Jangling Jack's in Sydney's Potts Point is a classic neighbourhood joint: it offers a respite from the madness that comes with living in Sydney, the kind of place where you take a seat at the bar and as regulars come and go and the hours pass you by. It's the atmosphere, it's the bartenders, it's the drinks.
But a lot goes into making a place feel so easy, and we wanted to know what that's like for owners Orlan Erin Raleigh and Jon Ruttan — here, lightly edited and condensed, is a day in the life according to Raleigh.
8AM:
Most days we endeavour to get up by 8 am. If Jon's son, my step son is at home, then we get up earlier getting him off to school. Obviously Jon and I live and work together. For many this may not work as there are traps of constantly talking about business, however for us our partnership in both business and privately has gone from strength to strength. We have recently developed the habit of getting straight on our bikes and riding for about 20kms. We started doing this to help with motivation and some headspace at the start of the day. It's not every day, but it is good for us.
9-10AM:
The pair of us are usually hanging out, having coffee and discussing the plan for the day. There is always jazz in the morning. Monk, Parker, Mingus, Alice Coltrane or whatever record is next to the turntable. Jon and I met in a record store, and the pair of us are collectors so music is a huge part of our day, every single day.
ADVERTISEMENT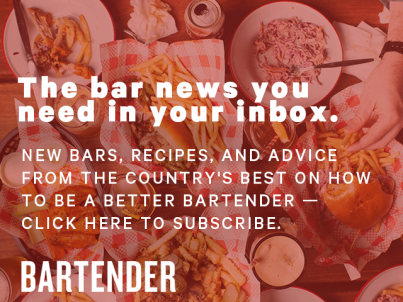 &nbsp
The first thing we discus is the numbers from the night before. Which thanks to our accounting software and the added bonus of Jon doing the books is easily checked remotely. We analyse everything from cocktail sales, food sales, all other drinks. We focus on: what sold, how many and at what time.
Jangling Jack's is a cocktail heavy bar, so it's always important to daily track how the cocktail list is selling as well as classics and those fringy throwback drinks that may pop up. Tracking sales is an important thing for us as it also helps with our par levels as they fluctuate and stock monitoring. We have a solid chat about pretty much anything in the morning from politics, to parenting stuff and music.

10:30AM:
We usually arrive at Jack's most days by 11am at the latest. (With the occasional "ah-fuck-it" morning where we rock up a bit later. Living around the corner makes it easy to be on time.
Deliveries start from 11am. As Jack's has a kitchen, we don't just receive booze daily but it's a constant all day stream of delivery peeps. Jonny fires up the playlist and we keep the Jazz cats rolling with a bit of Swing thrown in to get in the mood.
The first thing is the checks though. We check absolutely everything. Every fridge, bar and kitchen, even under the shelving in the coolroom. Wine stock, backbar, bathrooms and cleanliness. Jangling Jack's has an amazing small team of staff for which we are grateful every day. The venue is always spotless when we come in, the checks are a way that we let nothing slide. If something breaks or conks out the night before, then out comes the tools and it is sorted in the morning. Wear and tear can drive you nuts, so staying on top of it is good advice for anyone out there starting a bar. Buy tools, learn to use them.
Jon and I have a meeting, like a proper one, where we plan out everything we need to get done. This happens daily. I think as owners we like the daily grind of it. Theres always something to do. I might have to redo the menus based on sales or new stock, a poster for an event, or the truckload of other things that comes with small business. Jon's always on the accounts for which I am eternally grateful. We do have a bit of divide and conquer, delegating the right one of us to each task. Orders and rostering is done Mondays, so Fridays tend to be organised and smooth sailing.
11AM-12PM:
The full database of songs for Jangling Jack's is around 12,000 songs. We pop the list on random for the rest of the day before open. It goes a bit all over the place with everything from bebop to Motorhead. As the day goes on if there is any song that comes over the system that we both look at each other and say, "Yeah?" then it goes on the list for service.
I usually try to sneak in at least an hour of drawing into my day, so I always have my sketchbooks and pencil case at all times. You never know when an idea will pop into your head. Fridays are not the day I get to draw a lot, but every little bit helps as I am working on a 55 page book at the minute.
One part of Jangling Jack's that I really like is our team. Without them I'd be pretty much living at work, so we set up the floor and help put away deliveries as well as do the initial part of setting up the bar so that Rachael [Merritt], and the rest of the team don't have to do too much. I am always trying to be as helpful as I can to make their jobs more enjoyable. As a policy, Jon and I both want the staff focused on service and not worrying about the little things.
2PM:
The Scottish Wonder [Merritt] arrives, as does Chef Dave. We have quick meetings with both before they get to the set up. (Tuesdays we have meeting regarding menus, staff, and anything coming up). I go to the bank up the road to get change and do the banking. This is done twice a week. I never thought I would spend so much time at banks in my life until we opened Jack's. Not a highlight to be honest.
3:30PM:
We help with the last part of set up and also all the finer touches so that Jack's looks the way I want as we open. Rachael and Dave are pretty busy at this stage.
4PM:
We open for service and hit play on the service playlist.
Every day I chat to Rachael, Mikey or Sarah at open about a cocktail to photograph for Instagram. It's done daily because Rachael is always working on drinks as well as training Sarah in classics she might not know. I use the front table, because the light is great for drink pictures and I also like the consistency of having the same background. I place the drinks right near the edge of the table just to screw with a friend of one of our DJ's who wants to see it more secure. Cocktails from the edge…
I love a cocktail. Always have. Always will. So I am usually throwing out suggestions too. I photograph the drink and bartender and post it online. Sometimes we have events lined up with certain booze companies or Rachael is trying out a new idea for the list so this gives us an opportunity to showcase brands we are working with.
We also post a picture of a musician or band we like too – the whole #dontyouknowwhoiam is because Jon particularly, is always horrified that a cocktail picture will get a load of likes but a titan of music will get less than a handful of likes. Poor guy, it's an uphill battle.
7PM:
Most Friday nights now I don't have to work the floor, so I tend to sneak out about now — all thanks to our team. Rachael is a phenomenal bar manager (and Dan our king of the floor too) and has the shift covered so that Jon and I can get some normal family time with his son. I used to work the floor all the time, which on top of everything else was wearing thin after 18 months of being open. My time is now spent working on other projects, illustrating books and going to my step son's basketball on Friday nights. I kind of relish it to be honest.
My phone is the business phone so all day and particularly after 6pm it's ringing quite a bit with people looking for tables, or asking for info — so from now til close it's all "Erin from Jangling Jack's…"
Music always comes up every day. Whether it is chatting to staff and regulars about music or being asked "What song is this?" by customers – it's something that the staff love about Jack's and our punters do too.

1AM:
We close. I have trouble falling asleep even when I am not there until after close. I think it's a subconscious worrying thing, and it does drive me nuts, but it's all part of it I guess. Jonny and I check the cameras quite a bit on our phones, just to check what's happening throughout the night – and of course taking screen shots of our mates and creepily sending it to them… my personal favourite.
When I am working, close is my favourite part. It's usually a great time to decompress and hang out with the staff. We close the venue super quickly with all of us working together. Sarah is a gun at close – she's lightning fast. We always have a good laugh and have a glass of wine. There may be some nights where it's a few glasses of wine….
I do the till, and the tips. We lock up and get the hell out by 2am at the latest including a few glasses of wine.
2AM:
If I've worked the shift I don't tend to go out after work often. I'm just a bit over people by this stage — I'm rocking up at home to chill out. Mostly I sit and have another glass of wine watching some shit action movie, 1980's Arnie always relaxes. By this time it's great to kick my shoes off and try to forget about a work for an hour or so before bed.
8AM:
I'm up to start it all again. It probably sounds pretty boring with mostly just emails, phone calls, bills and a shitload of time spent at Jack's, but owning a venue is one of the most rewarding things I have ever done. I enjoy working with Jon and with my team, when I am on the floor. I also enjoy when I am not working knowing that my amazing staff have it all under control.
It's part and parcel when it comes to small business, that it takes over pretty much all of your life. You leave at night, knowing you have to be there in the morning. Every morning. As we approach the second anniversary of opening Jangling Jack's I will admit that Jon and I get more nights away from the venue, giving us a chance to do things other than just work which is better for everyone.