Jared Merlino has had a rather large 2017. The co-owner of Rum Bar of the Year, The Lobo Plantation, received a swag of nominations at this year's Bartender Magazine Australian Bar Awards, with Big Poppa's taking out the title for Best Bartenders' Bar and Merlino nabbing the Bar Operator of the Year award.
He also entered the Top 10 Most Influential List sponsored by Angostura aromatic bitters for the first time this year, landing at number three on the list. Below he discusses the trends he wants to see take place in 2018 and more.
Jared Merlino, Owner, Lobo Plantation, Kittyhawk, Big Poppa's
Which trends do you think we'll see in 2018? What do you want to see take off in 2018?
A focus on the mental and physical health of people in our industry and how employers can help employees keep the vices of our industry in check. This is clearly not a food and beverage trend but something I see getting more and more attention of late and one I hope really takes off in 2018. We have all either been affected by or have witnessed people burn out (or worse) in our industry and I think it's a good time for employers to put more focus on the wellbeing of our employees by offering ways for people to reach out in times of crisis, or focus on improving our physical health. We all love the party that comes with this industry, but I believe there needs to be a balance for us all if we want people to build long term careers and not just short term jobs in hospitality. 
If you were face to face with your 21 year old self, what advice would you give them?
You don't know everything you little shit! I thought I knew it all back then and if I could have a word with myself I would say to listen more and talk less. There were a lot of talented people I worked with in my twenties that I feel I could of learnt a lot more from if I was more open to listening and learning from others. 
What are you working on at the moment?
I've started an internal program called 'Be Better' that focus on weekly group PT sessions for staff to focus on physical health and also personal development sessions once a month for staff to focus on their mental health and life and career projection.  
ADVERTISEMENT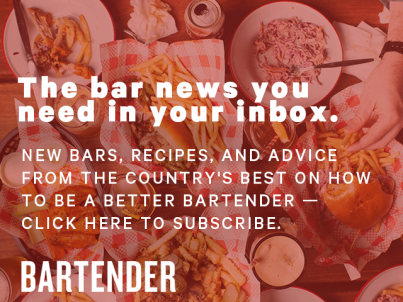 &nbsp
Who from the next generation is impressing you with what they're doing? Who's got a bright future ahead?
I'm lucky enough to have two of last year's Rookie of the Year finalists working for me now – Cherish Wilkie and Harry Saunders. Both have bright futures ahead. Both have a serious thirst for knowledge and both push themselves to learn as much as they can from their superiors. They're not the only ones, I've got a lot of young, eager employees. The passion from these guys and girls is what is going to keep our industry driving forward over the next 5-10 years — I hope to find more and more legends like this to work for my companies!
Can you tell us a bit about your first bar job?
My first bar job was at Minx Gentleman Club on Pitt St when my older sister opened the place in 2004. I was a kitchenhand first and then moved to the bar. It was a pretty interesting place to work for an 18 year old and I didn't learn too much about bartending – but I got to watch my sister running a team and managing a complex venue and thats when I decided I wanted to build and own my own bars and restaurants.