Michael Madrusan's The Everleigh has had a refit this year; his Melbourne CBD bar, Heartbreaker, has gone from strength to strength; they've published their own highly regarded cocktail book; and their ice supply company, Navy Strength Ice Co, delivers the good stuff to many of Melbourne's best bars. Michael Madrusan is doing great stuff, and this year enters the Top 10 Most Influential List sponsored by Angostura aromatic bitters at number four on the list. Below he discusses the trends he wants to see take place in 2018 and more.
Michael Madrusan, Owner, The Everleigh, Heartbreaker
Which concepts/trends do you think we'll see in 2018?
The concept of good service is something I'm always harping on and it's something that will never get old, or less relevant in my book.
I'd love to see more attention given to sustainability in the industry in the coming year. I know we'll be taking a good look at the ways in which we can be more environmentally aware, and I hope to see our peers doing the same.
I also hope to see a more mindful approach given to hospitality and a higher level of care and attention offered to employees working long hours in a booze-fuelled environment. Training programmes that don't only address spirit and cocktail knowledge, but educate on emotional development and self-care. God knows we all need it.
ADVERTISEMENT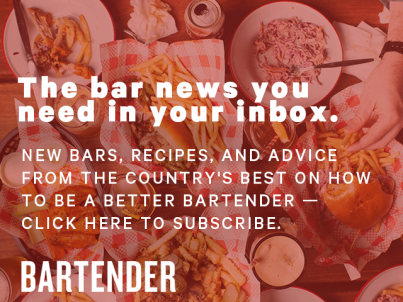 &nbsp
If you were face to face with your 21 year old self, what advice would you give them?
Get out of the gutter.
What are you working on at the moment?
Loads of Everleigh Bottling Co. stuff, from new collections to awesome events and collaborations with some really exciting brands I've always dreamed of working with. Getting my Connie's Pizza truck on the road, a new book for next year, and having a baby.
Can you tell us a bit about your first bar job?
I started cocktail spec training with my mum when i was about 8 years old (not a typo). She was studying drinks for the bar she worked in and i would test her. I was interested in making drinks from an early age. Around the age of 15 i would finish my shift in the kitchen of my mum's Mexican restaurant and go and make drinks in the restaurant bar with my now stepfather who would be hosting one of his famous lock-ins for staff and regulars.
Once I was old enough, I moved from the kitchen to the bar full time, whipping up frozen Margaritas of assorted flavours alongside a number of my mum's own original cocktails. She was super fast behind the stick and i had to work my arse off to keep up!