The Piña Colada is having something of a renaissance, its refreshing tropical charms rescued from the artless premix slushy days of the 1980's with today's focus on fresh, quality ingredients and attentive technique. The original — rum, pineapple, coconut — is about as much fun as you can have with your clothes on.
Here, Manuel Terron offers a fresh take on the classic tropical recipe, using the popular MONIN Yuzu Fruit Mix, some Angostura bitters and some aged rum.
Watch Terron mix it up in the video here and check out the recipe below.
Tsunami Joe's Piña Colada
1 whole pineapple (cored)
90ml Angostura Rum (5 year old)
45ml Monin Yuzu Fruit Mix
60ml Monin Coconut Fruit Mix
12 dases Angostura Orange Bitters
Blend all ingredients with ice until smooth in texture. Pour into shell of pineapple or a large hurricane glass. Garnish with flowers, fruit or parasols.
ADVERTISEMENT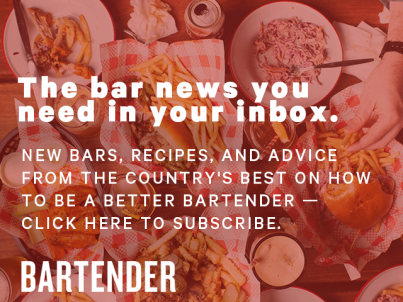 &nbsp