Hey Macadamia
45ml dark rum
15ml mango skin sherry
30ml spiced mango puree
30ml salted macadamia nut orgeat
2 dashes of bitters
Combine all ingredients and shake well with ice. Strain over ice in a tiki mug. Garnish with a spent lime husk filled with sorbet and sprinkled with macadamia crumble, with a dehydrated mango scoop.
Recipe by Jonothan Carr, Door Knock, Sydney.
Story by Sam Bygrave
Photographs by Christopher Pearce
Presented by Jonathan Carr, Door Knock, Sydney
There's been a lot of talk about sustainability in bars over the last two years, thanks in no small part to bars like the (now-closed) White Lyan in London, Maybe Mae in Adelaide, PS40 in Sydney, Maker in Brisbane, and Trash Tiki, the touring popup from expat Australian bartender Iain Griffiths and partner Kelsey Ramage.
ADVERTISEMENT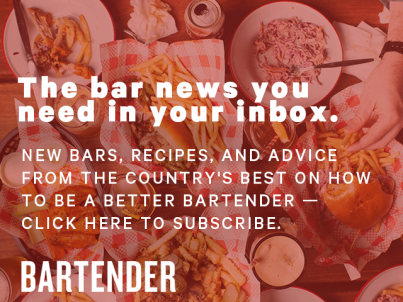 &nbsp
And it's Trash Tiki which has inspired the techniques behind this drink from Jonothan Carr (who placed second at last year's Bartender of the Year) at new Sydney bar, Door Knock.
The drink is called Hey Macadamia, and it's Carr's tribute to his home state of Queensland.
"It's kind of all about growing up on the Sunshine Coast and the delicious produce grown in Queensland in general," he says.
"When I was growing up, we'd go to the macadamia fields and run around the trees, and have grown up loving macadamia nuts since then. And mangoes are definitely my favourite fruit, sitting by the beach, eating a mango — it's a good time."
Carr takes these flavours, so reminiscent of growing up in god's country, and places them in tiki form.
"The drink itself is pretty classic tiki, it follows that kind of formula, but really heralding the whole Trash Tiki, top to tail thing, utilising every little bit, in this case the mango. By getting the delicious flesh and juice from the mango, and popping the skins into a sousvide bag with Tio Pepe sherry and sousviding that on low heat for about half an hour just to get some of the aromatics and rounding out some of the nutty flavours of Tio Pepe with the mango skins," he says.
He then uses dehydrated mango skin for little edible spoons with which to attack the garnish of macadamia crumble and sorbet.
"The macadamias are used to make a macadamia orgeat, which is nice and simple and delicious. And then you take the leftover pulp from the orgeat, that into the dehydrater, and it becomes a little crumble on top and becomes a textural element as well," he says.
He uses spent lime husks leftover from juicing as the vessel to carry the sorbet.
"You can freeze the lime husks if you need to and pull them pout for service, and you've got a little vessel to pop in a sorbet and the crumble."
The use of a sous-vide technique, in which the mango skins are infused into dry sherry, is a nifty little way to get the aromatics from the mango skin without over-cooking it.
Take a look at the steps below, and get Carr's macadamia orgeat recipe here.
The December print version of this story named the recipe as Sunshine of My Life, an early working title for the recipe.