Dave Kerr saw his Melbourne bar, The Beuafort, celebrate five years of trade in 2017, collaborated on the release of a major
new spiced rum
, and represented Australia in Berlin at the global final for Bacardi Legacy. He's a guy who is forever refining what they do at The Beaufort — we loved the new cocktail list (and the way it was structured)
when it came out in April last year as just one example
— and he's someone who thinks deeply about the bar trade and hospitality in general (you can get an insight into how he thinks in this
profile from 2016
).
Kerr also made his first appearance in the Top 10 of the Bartender Magazine Most Influential List sponsored by Angostura aromatic bitters in 2017, landing at number eight; below, he talks about what he hopes to see in 2018 in the bar scene, and who he thinks are the bartenders to look out for from the next generation of talent.
Dave Kerr, Owner, The Beaufort
Which concepts/trends do you think we'll see in 2018?
Sustainability for economics. It's already here with respect to operators doing it to extend parts of their brand story, but the economic realisations are starting to become clearer and the public acceptance is coming along nicely. People putting their lips directly to glassware and circumventing the straw is a clear winner here. However, finding ways to reduce waste through kegged wine for instance is something that needed consumers to get on board before we could be seen to delivering a quality product in an altered format. 
I want to see the market forces start to remedy the damage that delivery services are doing to the landscape of Melbourne's hospitality. I think it's a true threat to the existence of a lot of venues and being able to have food delivered to your house with extreme ease has completely changed the way people are interacting with restaurants. We can't blame people for taking the easy option, but I believe that it's altered the way people interact with venues, especially their local pubs and establishments. It's reducing the amount people spend when they're out, but also how people interact with venues, threatening the fabric of dining and drinking culture, that Melbourne especially markets as one of its greatest assets. 
What are you working on at the moment?
Re-imagining what my bar looks like and how a new generation of people interact with it. As a neighbourhood bar we rely on locals and our original demographic have all but been priced out of the area or gone on to become responsible adults. So after five years it's a great and welcome challenge to have to think about refining our product to a new demographic and communicating with a new batch of cool kids that might not have heard of us.
ADVERTISEMENT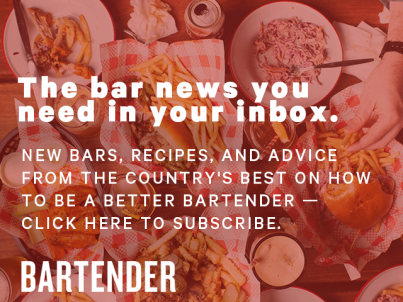 &nbsp
I'm trying to expand my skill set outside making drinks, which includes welding and carpentry, which will see me renovate a lot of the bar by myself. I haven't felt the feeling that comes with truly mastering something since I started bartending and it's an incredibly rewarding feeling to develop a practical skill and then get to apply it to something. For bartenders especially, we're drawn to the trade because it's a hands-on, practical job. For a lot of people that try to then transition into management which requires a completely different part of the brain, they don't excel at it and it would be awesome to see more guys recognise they're just not meant to be a spreadsheet wizard and follow the same line of thinking that got them into the game in the first place.
If you were face to face with your 21 year old self, what advice would you give them?
You're going to be good at spreadsheets but you'll fucking hate them. So delegate it and do something that makes you happy.
Who from the next generation is impressing you with what they're doing?
Oliie Margan. I was blown away by Adelaide in general and Maybe Mae was a huge standout for me in 2016. I had really low expectations of Adelaide, but the city blew me away after not having been there for 10 years. Maybe Mae was everything that wanted from a cocktail bar and Ollie embodies a lot of the qualities I work towards now as a 33 year old. Great drinks, impeccable service, humble nature and a guy who is clearly getting shit done. 
I also think that having competed against Ryan Snedden this year and beaten him, potentially only on account of the fact that he forgot to put rum in his drink makes me pretty confident he's going to be a great figure in years to come. He's got the right balance of fun and focus on the craft of being a bartender. Although he comes across as a pretty rambunctious guy, behind that is a humble and genuine guy who's working hard to make his mark and ensure that people on the other side of his bar have great drinks and a great time. He'll win something pretty big, hopefully for him it's before he's 32!
Can you tell us a bit about your first bar job?
The El Rancho Bar and Grill with its associated nightclub, 'FM's was as good of an introduction to the hospitality industry as anyone could have ever asked for. Speed was king, fun was mandatory and I still know all the words to 'Put your hands up' by Fatman Scoop and the Crooklyn Clan. I vividly remember stinking of cigarettes, smoking was still legal and drug use was rife. But I haven't been to a bar in a long time where drinks went over the bar faster and cleaner. That place printed money and I wonder what a modern nightclub with bartenders that fast would be capable of doing. It was a true education in setting up a bar for speed and efficiency and cutting all the right corners. Couldn't pay me enough to set foot in there again though.