Anti-waste popup
Trash Tiki
has toured the globe, and has popped up in Sydney and Brisbane. Now, come January 22, they'll be taking over Melbourne bar The Beaufort for a two week run when that bar becomes The Trashfort.
The Trashfort will see the Trash Tiki duo, Kelsey Ramage and Iain Griffiths bringing all the knowledge they've gained from their tour of 27 cities across the world, in which they take the trash from one city's bars and turn it into tasty tiki treats — all the while having a hell of a party.
"We're really stoked to be bringing this to Melbourne and for Dave [Kerr, The Beaufort's owner] giving us the chance to do something totally rad and different!" says Ramage. "Usually we come in throw a one night raging party, but this time we're gonna really test everything we've learnt over the last seven months and run shit as a real, actual bar."
The Trashfort will be something of a trash festival over the course of its run, with a full calendar of events lined up and their DIY punk aesthetic front and centre. Expect punk trivia nights, punk karaoke, and collaborations with bars like Bar Liberty on a sustainable wine night.
Importantly, there will be a Buck Hunter comp on February 1st (mark us down for that one).
ADVERTISEMENT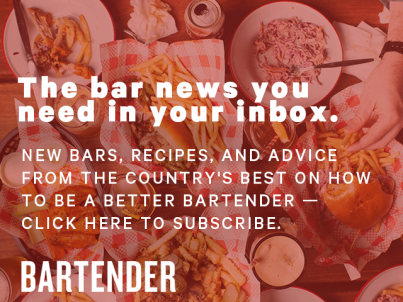 &nbsp
The Trashfort has been an idea in development since Kerr saw the Trash Tiki duo in Berlin last year, he says.
"I was at a Bacardi comp in Berlin and Iain and Kelsey were just about to leave on this crazy whirlwind tour. They wanted to stay in Melbourne for a while and I proposed that they just take over the bar and make it their own."
If you made it to the events in Brisbane or Sydney you will have tasted Trash Tiki's beer collaboration with Young Henry's, the Junkyard Ale, and PS40's custom Trash Tiki soda using spent citrus, bush honey and eucalyptus, and they're bringing those with them to Melbourne.
It promises to be a special two weeks — take a look at the schedule below and get down to The Beaufort at 421 Rathdowne Street, Carlton, Melbourne.
The Trashfort, January 22 to February 3
January 22 – Opening Party
January 23 – Punk Trivia
January 24 – Punk Karaoke
January 25 – YH Rager // Guest DJ Clowns
January 26 – Normal Night – DJ TBC
January 27 – Hottest 100 // Open Midday
January 28 – It's Fucking Wine // Open 2pm (TBC)
January 29 – TBC Guest Chef
January 30 – Punk Trivia
January 31 – Girl Germs Femme-Charity Jam
February 1 – Buck Hunter Comp (TBC)
February 2 – Normal Night – DJ TBC
February 3 – Burn it Down // Guest DJ Amyl & the Sniffers