the accomplished bartender is the guy at the helm of Sydney cocktail bar, Bulletin Place, and has the enviable — or unenviable, depending on your mindset — task of maintaining the high standards and dedication to hospitality that has seen the bar crowned as the Cocktail Bar of the Year an unprecedented four years in a row. Here, lightly edited and condensed, Hammond tells us a little about how he came to be where he is and how they operate at Bulletin Place.
As told to Sam Bygrave
Hospitality-wise, I've always been in a bar in some form or another. Even when I was at university, where I studied fine art, and after that I specialised in graphics and photography; whilst I was doing that I was always working in a pub.
Right back then there was no inkling of any sort of me taking that professionally or even wanting to. There was no desire to be a hospitality professional — maybe you owned the place, but you didn't want to be a professional bartender.
ADVERTISEMENT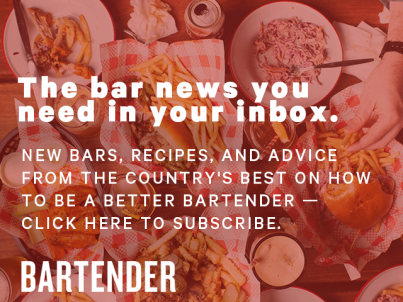 &nbsp
I don't know what Australia was like in 2005, but in the UK if you spent any amount of time in a venue as a young 20 year old and showed any sort of aptitude, you were quickly pushed toward a managerial position.
It wasn't necessarily the best learning process, but eventually I took it more and more seriously, and I realised, actually maybe I really like this. I made the move from where I was living in rural Essex, to London, got a job with a company called Living Ventures. They owned 15 big pub, restaurant and cocktail bars across the country, and their training program was really well thought of. They came form a TGI Friday kind of background, a really regimented service structure that you had to go through. That was a really good learning place for me.
Then to Match Group. I started off at The Player, stayed there for two or three years then moved to East Room.
There was an entrance exam you do — open book, it's more like if you can't pass it within an hour they're not going to give you a job. It's just a way to weed out people you don't want behind your bar, and to get an idea of who you are. They get you to make a few drinks, and if they like you they'll find a place for you.
I've been in Australia since 2008, and in Sydney for a year and a half. I've tried to implement that sort of training program in the years that I've been here but hasn't really stuck, but Bulletin Place is the first place it has. Here, the onus is on the bartender, it's like: "OK, you're going to present to everyone else next month, on this topic — go away and don't come back and look like an idiot."
Everyone seems pretty confident about it until they have to give it — it's good practice for the guys being able to speak in public.
I was seven years in Melbourne. Sydney feels like a much bigger city, even if it's not population-wise; it's just got that kind of landmark city kind of big vibe about it. People treat hospitality different in Sydney; in Melbourne, everyone eats. Everybody's time going out is geared toward eating much more than it is in Sydney.
I like to keep things pretty simple, and concentrate on hospitality. Obviously you need a great product, but I feel like people — myself included sometimes — maybe overthink things too much, or do things for the sake of it and not necessity. There's a huge gap between customers' knowledge and bartenders' knowledge, especially at the top end. What weird acids and enzymes you're using? They just need to know it tastes nice, and it's a good atmosphere. Mark Ridgwell always used to say that you should be like an iceberg — show 10 percent of your knowledge, but have 90 percent of it underneath you if you need it.
It's daunting, to be honest with you, and probably impossible. As a company we've been incredibly lucky in some ways; not only in having people like Adi Ruiz, Tim Philips, Matt Linklater and Shay Chamberlain, there's the PS40 guys Michael Chiem and Thor Bergquist and even  Charlie Ainsbury and Will Oxenham — there's a huge number of people who are amazing at what they do now outside of Bulletin Place who have worked here. Not only that, we hit the scene at the right time — there wasn't too many people doing really small craft cocktail stuff in Sydney when they first opened — and were so lucky to be well supported over that time, winning awards, four years in a row [as Cocktail Bar of the Year]. It's like, how do you maintain that? We're now doing more complicated produce lines, thinking further ahead, and probably got at least as good a level of service and atmosphere as we've ever had, but we're fully aware that you can't win everything all the time. That said, it's a hugely daunting thing to come in and maintain that, and maybe push that forward and do something more with it, and not let the guys down. It's definitely something that I think of; it's exciting at the same time.