Jägermeister recruited six of Sydney's finest to create a drink that best compliments this German favourite. Here are the results.
Tell us a bit about yourself, bartending background, etc.:
I was studying to be a primary school teacher – surprising I know, considering the way I look – but never finished it, so started my bar career when a friend got me a job barbacking at World Bar; now that's a whole different experience, picking up teapots man, I never wanna pick up a fucking tea pot again! It's actually quite funny, at the time you're like: 'fuck, I'm the coolest; carrying tea pots', but you're not – It's not cool, and don't try to make it! I 'teapotted' for like 6-9 months, then bartended there which was wild; a 21 year old kid bartending for hundreds and hundreds of people, techno blaring, you pretty much got paid to party. Fucking mad.
I was getting a bit carried away, so I thought I'd go and work at an RSL, and Earlwood Bardwell Park was my choice. Man, that place was fucking interesting, I was basically just taking out cola's and coffee's for old greek people. I got pretty tired of that – funnily enough – and, luckily, my mate called me up and offered me a job at Flinders; I did one shift, and fell back in love with bartending again. I worked with some of the greats down there: Andy Penney, Chris March, Dave Beatty – all the old dogs that now have kids and have serious jobs.
I then got poached to open up Tio's, which was fucking wild! That was probably the best experience of my life. Such a switched on and legendary team: Alex Dowd & Jeremy Blackmore, shout out to those guys, they got me where I am today. We used to roll dice for our tips n'shit, it was cool. It's still my favourite bar.
Then I went to Baxter for two years, actually, speaking of teams, shout out to those guys. I worked with some of Sydney's finest at that time. We won best bar team two years in a row; went from number 9 to number 6 in the world. We were just smashing everything in those years. And now Shady's, where I've been GM'ing for two years. It's fun man, earlier you and I were talking about recipe for success, and why we think Shady's still feels fresh after 8 years, and it's 100 percent down to Jason, Anton and Toby. When they hire people the first thing they talk about is service. Service is everything for us. You can teach someone to bartend, but you can't teach personality; it comes with who you are, and they are so good at picking the right people for the right bars. It's quite incredible really.
ADVERTISEMENT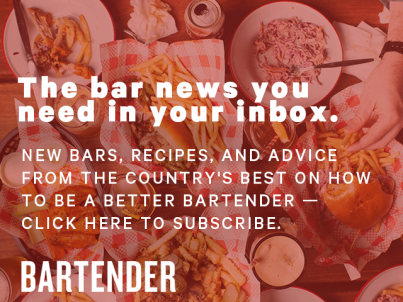 &nbsp

What do you most love about the industry? 
The fact that you get to make someone's night. It's awesome. It's also easy to forget, I mean they can order stupid drinks, but it's not your job to get frustrated by that. Sometimes it can get to you because of the crowd, or you've got to make six Mojitos – which sucks – but in the end, when you see that person smile, and walk out of your venue with a smile, it's possibly one of the best feelings in the world. It's what keeps me in the industry.
What advice do you have for bartenders?
Be nice to people, some of these people that sit in-front of you at the bar – especially from the suburbs where I grew up – have saved money, sometimes for 3, 6 months, to sit at your bar and it's your job to make that person's night. That's what you should be doing as a bartender. It's in the name hospitality, you have to be hospitable to people. Secondly: read! Read recipes, read the history of classics, read about New York, London, you know, Greece for example are killing it at the moment. They have two of the top 50 bars in the world in Athens. Read what other people are doing and see what they're coming up with – just because that's helping you shape your ideas, it doesn't mean you're completely copying someone. As I said, read heaps.
First Experience of Jägermeister?
Not a first experience, but I had six months where me and Chewy (Flinders) would go out every night with the intention of 'bringing Jäger back' into the scene! We'd hit up all sorts of questionable joints over this time: Smoking Panda, Criterion, Mercantile and drink Jäger 'till like 7am. In hindsight, it may have been a bit much. Fun though.
Why did you choose this style of drink to match with Jägermeister?
Well Jäger's got so much depth to it. People often forget that – with so much focus on the bomb, you know – but there's so many ingredients that go into this thing (56. Just so you all know) and every time I make a drink I try to focus on the main ingredient I'm using, and what will complement that spirit. So with this I just kept it super simple: Citrus, Mint – which goes really well with Jäger, and all the botanicals – and strawberries 'cos, well, they go with everything, and I fucking love 'em.
Any mad stories involving Jägermeister?
Man, just those six months! We still catch up and talk about that now. It was wild.
Moves Like Jäger'
20ml Jägermeister
40ml Aquavit
20ml Lemon Juice
15ml Strawberry Gastrique
10ml Falernum
Clapped Mint
Add all the ingredients to a Hollywood Highball. Add crushed ice. Swizzle. Garnish with mint sprig and dehydrated strawberry slice.