If you haven't heard of Trash Tiki yet you may want to think of coming out of that rock you've been living under. The dynamic duo Kelsey Ramage and Iain Griffiths started Trash Tiki as an online concept to share minimal waste recipes across the industry on a global scale.
Trash Tiki has been making waves and is now a world-touring anti-waste punk pop-up.
When they say 'trash' they aren't referring to dumpster diving. More that the produce in all their drinks are made from would-be 'waste' ingredients, stuff from kitchens, bars, coffee shops, and commercial business that all contribute to the global food waste issue. They're aiming to inject some fun back around the topic of "sustainability", with an inherently punk attitude, a playlist best turned up to 11 and an open-source website with all their recipes so everyone can be involved.
ADVERTISEMENT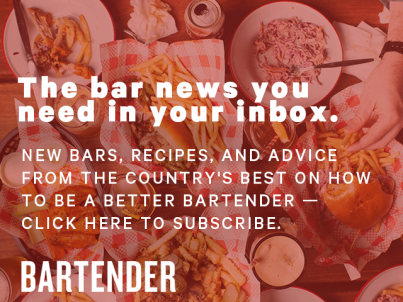 &nbsp
They've hit 47 cities across the world, and now it's our turn.
Want to be educated by two of the world's most reputable bartenders learning about how to create delicious cocktails, reduce waste, therefore improve your venue's bottom line while saving the planet?
Iain and Kelsey in conjunction with your local Exchange Ambassador will be hosting trade only seminars educating bartenders on this pressing issue.
Power of Locality Tour
Victoria – 19th February
Western Australia – 21st February
South Australia – 23rd February
Queensland – 26th February
New South Wales – 28th February
For more information ask your Exchange Ambassador or log on to reserve your place at www.the-blend.com.au. RSVP is essential and spaces are limited!