Sydney bar Maybe Frank, in Surry Hills, has quickly become a bartender favourite in the two and bit years they've been open — you'll find authentic Italian pizza, great wines, and a level of bar service and cocktails you just don't find at any old pizza joint.
It's a recipe that's proved popular and garnered owners Stefano Catino and Vince Lombardo, and bar manager Andrea Gualdi, a number of accolades since they opened in 2015: they've been nominated for Cocktail List of the Year and Restaurant Bar of the Year at the 2017 Bartender Magazine Australian Bar Awards, and made the cut internationally as a top 10 finalist for Best International Restaurant Bar at the Spirited Awards for last year's Tales of the Cocktail.
Now they've transported that recipe for success to the eastern suburb of Randwick in Sydney.
The main idea behind the thrust into the eastern suburbs, says Catino, is one of necessity.
ADVERTISEMENT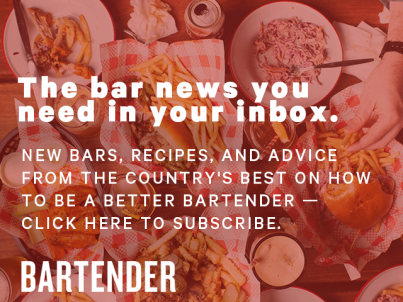 &nbsp
"The idea came more from a necessity to get more staff, not only bartenders but chef, pizza maker etc.," he says. "It's hard to run a busy business with only seven night shifts and to organise to have enough staff and [be able to] give enough shifts for everybody. We thought it would be cool to have another Maybe Frank so we can hire more people and get them between the two venues.
"And plus, it is such a cool concept — who doesn't like pizza and cocktails — and we have lots of people asking us to open in a different part of the city," Catino says.
"We saw a good opportunity and we decided to do Randwick."
Co-owner Lombardo grew up around Randwick, Catino says, and his connection to the area provided them with a ready-made database of customers.
They also saw that. The area was underserved in terms of cocktails.
"[There's] not much to do in the area in terms of cocktail bars, except for Bat Country," he says.
A new tram line that connects Randwick with the city will see more people coming to the area, he says.
The Randwick outpost is more than a mere copy of what they've done in Surry Hills, though; whereas many of the drinks they offer are the same, they take a horses for courses approach, too, making a few changes that make sense for the Randwick venue which wouldn't in Surry Hills.
"We have collaboration between the two [venues]," Catino says. Randwick has "the same Italian classics which we call Paisanos, but we play a different way. For example, in Randwick because we have this homemade garden bed we always have a cocktail from the list that is made with one element from our garden."
But given Maybe Frank in Surry Hills has been a success, launching a second Maybe Frank comes with some risks. If customers of the Surry Hills venue venture to the Randwick outpost and don't receive the same level of service, for instance, that can reflect poorly on the original.
So getting the consistency right across the two venues is of great importance, and to do that they've paid particular attention to the people they hire.
"Having me and Andrea finding new people to work with us, and being able to go between both [venues] it's definitely key," Catino says.
"But we find in Antonello, Balasz and Bruce the same passion for hospitality that we have and they take care of the stuff in the same quality if not better than we already do," he says. "Antonello's passion for ice and cutting ice is beyond belief, the technique of Balasz in terms of syrups are from some of the best bars in the world and having all these people in the mix helps for sure."
It's the cocktails that for us have always been the drawcard at the Surry Hills original (which is not to downplay the pizza, by the way) and they want to push this aspect in Randwick as well.
"It's what we love the most," Catino says, "and in Randwick we take care in the same way as Surry Hills. Even if people are maybe a bit less interested than Surry Hills we want to give the same product and introduce them to our style," he says.
And so far, a few months in, it's a direction that seems to be paying off.
"The response, it's been amazing and people seem to understand and appreciate [it] even more than what we thought.
"[The] people who live in that area are doctors, nurses, people who travel daily and have big incomes, and it's full of houses and those house are expensive to buy. So these people are smart, well-educated and they know what they want," he says.
Which makes sense to us. The bartenders of Sydney loved the original Maybe Frank, and we know they're a smart bunch.
Maybe Frank Randwick
69 Perouse Rd Randwick
maybefrank.com