January seemed to run on for a while, did it not? Well, the month is just about done and there were some big stories happening in the bar trade.
8 Hospitality, the group behind Sydney venues Grandma's, The Wild Rover, and Wilhemina's have a new CBD venue on the way; there was a lot of interest in the Speakeasy Group's new mentorship program as a way to mitigate the skills shortage; and Alen Nokolvski talked about rolling dice for his tips, and more.
So in case you missed them, here's the six top reads from the month of November.
How to beat the staff shortage: Speakeasy Group unveils new mentorship program
The boom of great quality bars in Australia has been undoubtedly a good thing; never before has the breadth off quality drinking establishments been quite so broad.
ADVERTISEMENT
&nbsp
This has, however, meant that there's been an increased demand for quality, professional staff in an industry which is still to completely throw off the image of bartending and bar management as a transient job, something to do to pay the bills and score some drinking money whilst you prepare to get that 'real job'.
Now, multiple award-winning hospitality group, Speakeasy Group, are looking to counter that shortage with an in-house, rolling mentorship program to take passionate hospitality people yet to make a big name for themselves and to provide them with on the job mentoring to develop them into Speakeasy management material.
Click here to read the full story.
New Sydney bar and restaurant to open from team behind Grandma's, The Wild Rover
8 Hospitality is the group behind Sydney bars The Wild Rover, Grandma's and Wilhelmina's, and this year they're looking to add another venue to their stable when they open a new bar and restaurant in the Sydney CBD.
Located at 4 Bridge Street, the new venue is yet to be named but the concept is locked down. Inspired by their travels in northern Italy, owners James Bradey and Warren Burns are bringing an Italian steak restaurant to Sydney.
Click here to read the full story.
"We used to roll dice for our tips n' shit, it was cool." Meet Alen Nikolovski of Shady Pines Saloon

"I was studying to be a primary school teacher – surprising I know, considering the way I look – but never finished it, so started my bar career when a friend got me a job barbacking at World Bar; now that's a whole different experience, picking up teapots man, I never wanna pick up a fucking tea pot again!"
Click here to read the full story.
'A return to service.' Ryan Lane, no. 6 on the Most Influential List, talks 2018 trends

Ryan Lane is the man running one of Australia's best bars, The Gresham — you can see what a day in his life looks like here — and he has been vocal in the Brisbane bar scene about bringing the industry together and pushing back against that city's ID scanning laws for venues.
2017 saw Lane make his first appearance in the Top 10 of the Bartender Magazine Most Influential List sponsored by Angostura aromatic bitters, landing at number six. Below, he talks about what he wants to see in the bar industry in 2018.
Click here to read the full story.
'People overthink things too much.' Paul Hammond on running the award-winning Bulletin Place

The accomplished bartender is the guy at the helm of Sydney cocktail bar, Bulletin Place, and has the enviable — or unenviable, depending on your mindset — task of maintaining the high standards and dedication to hospitality that has seen the bar crowned as the Cocktail Bar of the Year an unprecedented four years in a row. Here, lightly edited and condensed, Hammond tells us a little about how he came to be where he is and how they operate at Bulletin Place.
Click here to read the full story.
Tiki in 10 days: how to open a popup bar, quick

So you want to know how to open a popup bar? First things first: it ain't going to be easy. There's a lot of blood, sweat and tears that goes into the process, and that's something that Tom Bulmer, Chau Tran, and Bryce McDonough — the ownership trio behind tiki popup Lost Luau — found out in their rush to open their venue in 10 days of work.
They opened on the 1st of December last year, and are trading on through to the end of summer, so whilst they had the experience fresh in their memories we asked them for some advice on how to popup and tiki in 10 days.
Click here to read the full story.

ADVERTISEMENT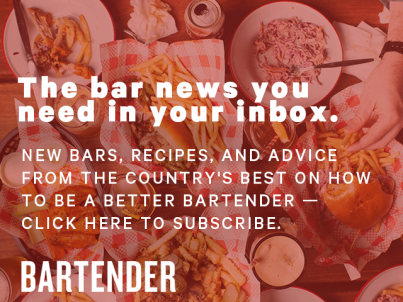 &nbsp