IF THERE'S one trend we're sure will continue in 2018, it's the rise and rise of Australian craft spirits production and the boom in locally made gin. At the
Australian Distilled Spirits Awards
last year, they received some 245 entires, 79 of which were gin, and since then even more Aussie gin brands have come on to the market.
This surge of interest is one that the trio behind Adelaide's Never Never Distilling Co.— Sean Baxter, George Georgiadis, and Tim Boast — are looking to ride as they grow their business over the coming years.
"There's some beautiful things happening in Australia in regards to the spirits industry," says Baxter. The first part driving this surge is the support of locally made products.
"I think there's a huge amount of action not only from the pure volume of new distilleries opening up, but it's also the way that those products are resonating with local communities," he says. "At the moment, we're a local distillery that sells nationally. The majority of our sales and volume happens within a really short radius of our distillery. And we've got amazing relationships with local businesses, some of which you wouldn't anticipate were selling small craft spirits —  your old man pubs, there's like three or four bottles on the back bar but one of those is us because it's distilled 100 metres away," he says.
Their fledgling distillery is housed for the moment in a small, 16 square metre space in the back of Adelaide's Big Shed Brewing, the very model of a bootstrapped boozy startup.
ADVERTISEMENT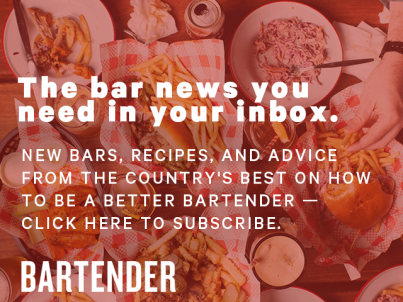 &nbsp
"When you talk about footprint size, you can't get much smaller than that," Baxter says.
"We're basically like a distillery on a wall. Every single time we want to produce we have to pull out everything. It's sort of like those garages you had as a student where if you wanted to park the car you've got to pull out everything, the surfboard and all the bits and pieces."
Yet despite the inefficiencies in their operation, the trio have managed to make an outsized splash so far, landing on some of the country's best back bars. That may be because they are unashamedly making spirits that appeal to bartenders — the plan right now is to focus on gin and whisky —  and thanks to the insights that come from Baxter's own experience as both a bartender and a brand ambassador.
"Just like any other distillery, we looked at what we were passionate about. I was passionate about whisky, and have always been," he says.  "I've always loved gin. Gin was always something I consumed quite a lot even when I was a whisky ambassador — you know, asking to put the three Negroni's I had at Black Pearl through as single malt was a trick of mine."
So having decided upon making gin, they wanted to go all in on a full-flavoured gin, the type that bartenders tend to gravitate towards.
"I decided with the guys that if we were going to do a gin, we needed to do something that was very juniper-forward and very juniper focused. We pretty much used that focus as a call to arms for all the products we're going to release, a return to flavour: full-flavoured spirits that pull no punches when it comes to what they're trying to achieve."
The end result? Their Triple Juniper Gin, in which juniper is used in three different ways (by steeping; by partially placing some in the pot still; and through vapour distillation) has quickly found a place with bartenders around the country.
They've also produced a bottle that resonates with bartenders, something which Baxter says that it was important they put some thought into.
"Because you're around products so much, you switch off to a lot of the branding and the design that's out there and I definitely didn't want that kind of thing happening with our bottle and our brand. If I was going to be picking it up for the rest of my life — which is what I'm attempting to do — I wanted it to feel good. I didn't want to be at my 150th event going, 'gee, I really wish I made the bottle neck longer.'"
The design of the label features a lino cut of the Willunga Ranges, which represents an aspiration for the brand.
"It's somewhere we want to be, that's the dream," Baxter says. "When we wake up every morning and look at that bottle, that's what we want to work towards."
And as for the name itself?
"I can't name a cocktail, let alone a business that I'm going to hang my hat on," he says. The phrase 'never never' was used in a poem by Henry Lawson and used to describe early Australian colonial  "adventurers going off into the middle of the country," according to Baxter, before it later became associated with Peter Pan.
"We wanted it to represent that fearless spirit that those early adventurers embodied, the three of us heading into this crazy adventure, pushing all our money into the middle of the table and seeing where it takes us."
Meet the guys from Never Never Distilling Co. when the Indie Spirits Tasting comes to your town this year – visit indiespiritstasting.com.au to find out more, and click here to get tickets to the Brisbane event in May.