Citrus. Once it's squeezed and the juice is used — most of it ends up in the bin, right? Well, take them lemons and make this citrus stock.
The Trash Tiki duo of Iain Griffiths and Kelsey Ramage are sharing their easy minimal waste practises with the world. Now in Australia they have partnered with The Blends of the World to educate the industry on waste management.
Trade Seminars – reserve your spot now, visit www.the-blend.com.au.
Beneath Driver Lane, VIC – Monday 19th Feb
Long Chim, WA – Wednesday 21st Feb
Maybe Mae, SA – Friday 23rd Feb
Electric Avenue, QLD – Monday 26th Feb
Charlie Parker's, NSW – Thursday 1st March
Check out this simple second use for lemons in the video above.


See what Iain and Kelsey have to say below about their citrus stock, and visit trashtikisucks.com for more.
Citrus is like the final frontier of modern craft cocktail culture. First, it was about the truly "classic" bars that used fresh squeezed to order, Then as the movement spread and fresh reached bigger volume bars, the question was about how long fresh could last so that "to order" could be done away with in the name of speed of service. Molecular saw the advent of manipulating flavour and textures within citrus and the ascent of citric, malic, et. al. acids into our lexicon. Hell, some jack asses recently even had a whole bar with no fresh citrus 😉
Now, as the industry awakens to fact we need to stop fucking the planet with every daiquiri and tom collins we make, citrus is once again front and centre, this time as it is by far the biggest waste product of any craft cocktail bar. Our Pink Citrus was our first foray into tackling this problem and we still rock that at every pop up, but we also found some drinks were needing a bit more texture than what it could bring.
ADVERTISEMENT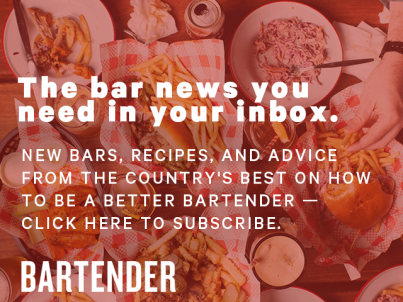 &nbsp
This idea was born of a late night chat Ryan and I (Iain) had back a few years ago. As Kelsey and I then launched into this mad beast of mission with Trash Tiki, we spent some time and took that basic idea of a "citrus stock" then started testing and making liquid. Now, both us and the cool peeps at the Lyan company have tackled that long ago idea, but from very different directions, hopefully meaning every bar can find a use!
Unsurprisingly, Kelsey's and mine is a little more "wham-bam-thankyou-mamm" as well, we rarely have more than 24 hours to turn citrus waste into something more delicious.
We first explored this in the making of own curacao, that you can the read the recipe for here – but we learnt a lot from the research and development of that product and with some key changes, now have a recipe we roll out again and again every week, every city around the world.
A quick note just to say, please always make sure you're using organic citrus! It's the best way to make sure your fruit has been tampered with or someone hasn't tried to play god with it. Always be sure as well to wash your citrus before juicing to make sure all you're squeezing out is fresh juicy goodness.