We live in a global bartending community these days, with more and more Australian bartenders jet-setting off around the globe to gain ideas, learn new techniques, and meet new people. Here's our hitlist of the six biggest and best bartending events around the globe in 2018. Mark them down in your diaries, and we'll hopefully see you there.
Singapore Cocktail Festival
May 4-13, Singapore
www.singaporecocktailfestival.com
Formerly known as Singapore Cocktail Week, this event has gone from strength to strength in recent years, mirroring the development of Singapore's cocktail scene. The city state is home to some of the world's best bars these days, and Singapore Cocktail Festival is a great chance to visit its best and get a sense of the burgeoning bartender scene in our region.
Bar Convent Brooklyn
June 12-13, New York
www.barconventbrooklyn.com
A new event on the global bartending calendar kicks off in Brooklyn this year. Bar Convent Brooklyn is the first extension of the Bar Convent Berlin brand, and you can expect a similar feel to Berlin's BCB when it opens — they'll also include some high-calibre seminars and talks, given that The Knowledge, Angus Winchester, is in charge of the event's education program.
ADVERTISEMENT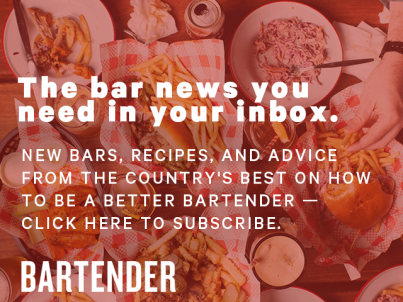 &nbsp
Tales of the Cocktail
July 17-22, New Orleans
talesofthecocktail.com
Tales of the Cocktail takes place each year in July in the historic cocktailing city of New Orleans. Over the years, Tales has grown into the first truly global cocktail conference, and bartenders from all parts of the globe visit for the seminars, networking, and the Tales of the Cocktail Spirited Awards. Honestly, if you've not had a misspent evening at the Alibi at 3am, your bartending career hasn't really yet started.
Sydney Bar Week
September 15-19, Sydney
www.barweek.com.au
Organised by Spanton Media, Sydney Bar Week is the biggest week on the Australian bartending calendar, with five days and nights of parties, education, events and tastings.
Sydney Bar Week will run from the 15th to the 19th of September this year, and all the great events are back: the 18th instalment of the prestigious Bartender Magazine Australian Bar Awards, the Indie Spirits Tasting, the Whiskey Roadshow, The Business of Bars® Conference, and more to be announced making for a jam-packed schedule of events.
London Cocktail Week
October 1-7, London
drinkup.london/cocktailweek/
London Cocktail Week is a huge festival of cocktail culture bringing together the city's best bars. There's numerous popups and guest shifts that take place each night during the week, and the London Cocktail Week Village brings together many brands and puts them all under one roof, at Old Spitalfields Market. The World's 50 Best Bars list also usually takes place this week.
Bar Convent Berlin
October 8-10, Berlin
barconvent.com
This year marks the 12th year of Berlin Bar Convent and the show is bigger than it's ever been, expanding this year to run over three days rather than two. Under one roof are hundreds of producers and brands, many of which rarely make it to Australian shores. Throw in talks and seminars from the bar industry's best and brightest, and it makes BCB a must-visit for bartenders (we'll see you there).