MONIN has a 106 year history as a family business — they've seen challenges, lived through wars and occupation, seen boom times and bust, and have grown from a small regional producer in France to being in 150 countries across the globe.
Last month at Solera in Sydney, we spoke to Olivier Monin, whose grandfather is pictured on the MONIN label, and who joined the company at a tough time in its history in 1986. Below, he talks about how he turned the family business around, how MONIN embraced bartenders before it became popular to do so, and how they developed a premium, quality-driven focus on natural ingredients when others were using cheaper, artificial ingredients.
Look at what everyone else is doing, and do something different 
"I joined the company in 1986, after business school and one year in the US. The company was not doing very well, my father was a little ill; he had some heart problems. The company was losing money, and he called me — I was a banker in Chicago — and he said either you come back or I sell the company. I love a challenge so I went back.
"I was working in finance, so I knew what was going on. The company was not selling enough, we were just below the break-even point. At that time, I said we need to produce more and the easiest way to produce more was in the private label spirit business. France is a big country for pastis, and at that time many brands were doing private labels for supermarkets. I went in that direction, and in a few months we had doubled the volumes of the business and, although the margin was not high, it helped the company to go back on the positive side and saved the company..
After a few months, I realised spirits were too competitive worldwide, there are huge companies everywhere. Syrups, besides France? Nothing. So let's try to enter a market where there's nobody."
ADVERTISEMENT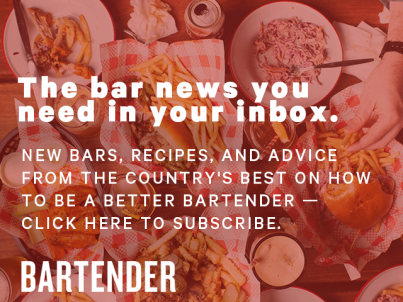 &nbsp
The takeaway: If your bar is doing what everyone else is doing, you might be headed for a fall.
Learn from your customers — find out what they want
"I started contacting the bartender associations, there were 50 bartender associations worldwide in the 1980s. I started in Sweden, France, Norway, then Czech Republic and so on. From country to country we were adjusting our marketing.
"Every time we entered a new country we discovered new needs and new flavours, and so from 20-plus favourites in 1986, we now have 150 flavours. In each country we discovered new needs, new trends and new flavours.. Bartenders really helped us to grow the business."
The takeaway: It's about the customer, not your vanity. Now, MONIN is in 150 countries.
Try new things, but do it wisely
"Always, all the growth of the company has been very pragmatic. I've never wanted to invest big  money in the one direction — I wanted to try it [first], see if it worked. Because when I took the company over it was almost bankrupt, so I wanted to grow things safely — aggressively, but safely. We were just reinvesting what we were making.I didn't want to borrow money from the bank. I used to be a banker; they're very nice when you've got money, and when you don't they're the worst people ever."
The takeaway: Choose projects that are a natural fit for what you do, and grow your business organically.
Think two or three steps ahead
"Last year we launched the Yuzu Puree, and it was created and firstly launched in our Kuala Lumpur plant for Asian and Australian markets. In Europe, yuzu isn't very famous yet, although it's becoming more popular now. It's a hybrid between a lime and a mandarin, it's a very powerful citrus, and mainly used in Japan but mostly grown in South Korea. We love the fruit, and maybe now we'll try to go further into [starting] a plantation. Yuzu is not very well cultivated, and we foresee a good expansion, and maybe in five years there won't be enough in Korea to supply us."
The takeaway: Sure you might want to offer hand carved ice, but can your staffing model keep up with demand?
Believe in quality
"I always wanted to have something that is the best quality. In France when I started, syrup was known as a kid's beverage — just sugar and some essence. But if you want to build a brand, you need something different. The company before was never really very wealthy, it was always tough; I would see my father at the end of the month, and it was tough.
"I wanted to position our brand at a high level, with the best quality, and when you want the best syrups you need to buy the best ingredients. For example, with vanilla, we use only pure vanilla beans, and the difference between pure vanilla beans and artificial vanilla, it's 100 times more expensive. So you need to position your brand at a high level to allow yourself to buy more expensive but better ingredients. That has been our strategy. And now, which is quite funny, more and more now everything is going natural. When you want to buy natural ingredients, it costs at least 30 percent more than non-natural. So other syrup companies, because they're positioned 30 percent cheaper, they don't have the margin to buy the right ingredients. Some customers in the US, said we're too expensive; now they're coming back because they want to have the natural claim on their menu."
The takeaway: It's hard to raise your prices if they're low; there's always a market for quality.
Be of use to your customers
"15 years ago we launched the MONIN Mojito Syrup. It's easy to get fresh mint leaves, but after a few hours the leaves begin to lose their power. We wanted to push the Mojito trend but the main problem was having a consistent base — that's why we launched the syrup. This year, we'll try to launch a Saffron Syrup. Saffron — it is expensive, it can be hard to get good saffron [as a bar]. We may launch it in a smaller bottle, and make it easier for bartenders to have quality liquid saffron."
The takeaway: Fill a gap that makes life easier for your customers; reap the benefits.
Support the next generation
"Everywhere, every week there's a bartending competition happening somewhere round the world. A lot of the time it's the same winners, which are bartenders around their 30s or more — they're true professionals and the best. We said, let's have another competition — the MONIN Cup — to promote the younger generation, so they have to be below the age of 27. They have time to create their own cocktail, which is the first selection, but in the last round, they have to create a cocktail out of the box to see their real creativity."
The takeaway: Identify and champion the next generation of your customers.
Pay it forward
"In Cambodia there is an organization called PSE (Pour un Sourire d'enfant) which is trying to help people from underprivileged backgrounds, we sponsor the bartending school there to try and help them. It's a little thing we can do, and also to try and promote the industry. We are successful today thanks to bartenders, now we try to give back in poorer countries and reward potential talent."
The takeaway: Give back to those who have helped you along the way.
Stuart Alexander & Co. manages the distribution of MONIN in Australia, and has done so since 2012. To see the full MONIN range visit www.stuartalexander.com.au.