Opening in mid-March, Walter's Bar & Steakhouse will sit on the corner of Edward and Alice streets in Old Mineral House, a heritage-listed building in Brisbane's CBD. It's the newest venue for owners Denis Sheahan, Andrew Baturo and Paul Piticco, whose other venues include the award-winning occupant of another heritage-listed building, The Gresham.
The steakhouse will have a strong bar focus, with Brendon Osmers, who has been at The Gresham since its start, moving to Walter's to take on the role of bar manager and resident wine guy.
"Walter's Bar & Steakhouse has been a long time coming," says Osmers. "The gents originally formed their partnership with the intention of creating a steakhouse with charm, following their different travels around the globe, and based on a love of a good drink," he says.
However, they'd been unable to find a space that matched the dream until now.
"When the former Restaurant Two site (a staple of Brisbane hospitality history) became available, the dream became reality," says Osmers.
ADVERTISEMENT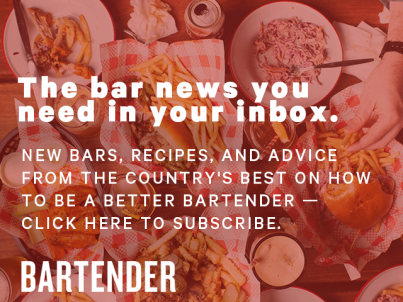 &nbsp
Inside the steakhouse, the bar itself will cater to 60 guests, and trade from midday to midnight six days a week. And given Osmers' considerable talents (he's been a regular fixture of the Bartender of the Year final round over the last five years), we're expecting the bar to be a destination in and of itself.
"We are focusing on quality, simplicity, and experience," he says.
That means they'll be offering up classically composed cocktails and quality spirits at the bar. And if you've been served by Osmers at The Gresham, you'll know he's passionate about his hometown and Queensland more broadly.
"We're doing three aperitif drinks and then a handful of cocktails," says Osmers. Expect aperitif drinks like the Calvados Highball (calvados, apple skin manzanilla sherry, peach, ginger, and soda) and sturdy steakhouse cocktails like the Mineral House Cocktail (bourbon, apera, salt &. pepper vermouth, apricot brandy).
"We've got a few techniques and tricks to bolster the flavours," Osmers says, "but it's all about getting great drinks into people's hands and letting them enjoy the spot."
Wine will be front and centre as well, featuring "renowned and emerging winemakers," with the aim of sharing bottles that the team loves.
"Essentially the crew just wants to share the tasty stuff we come across with all who are keen," Osmers says. "After all, that's how Walter's came about; sharing great food, and top drinks."
Walter's Bar & Steakhouse is due to open in mid-March on the corner of Edward & Alice streets, Brisbane.