Indie Tasting Brisbane is back for its third year at Lefty's Old Time Music Hall on Sunday, 27 May from 1pm to 4pm. The event will feature over 30 exhibitors showcasing more than 100 craft spirits, with master distillers on hand and free seminars going deep into the world of independent spirits. Tickets are just $55 (plus booking fee) and includes all samples and snacks but if you book now you will receive the EARLY BIRD DISCOUNT and pay just $35 (plus booking fee). CLICK HERE TO BOOK TICKETS.
If you like supporting small brands and uncovering little known gems then the Indie Spirits Tasting is tailor-made for you. Lawrenny Estate, located in the upper Derwent Valley town of Ouse, has been operating as a working farm since the 1800s. Two years ago the team, which includes Ross and Mary Mace and their son Cameron, decided to try their hand at distilling. They have invested heavily in operations that they hope will give them the capacity to become one of the state's leading suppliers of distilled spirits.
This week marks a milestone moment as the harvesting of the second crop of barley is underway and they will see the first barrel of Lawrenny Estate Whisky being filled. "We are located in one of the best positions within Tasmania to produce world class paddock to bottle Estate Whisky," says Ross Mace. "The barley seed has been hand selected and cropped on our fields, we malt the Barley on site and use this to create our unique base spirit."
We took a moment to chat with Head Distiller Joe Dinsmoor (formerly of Lark and Archie Rose) to find out about how things are trucking along at his new home.
Give me a little bit of background on your brand/ brands s and what prompted you to start them. Lawrenny Estate Distillery was born out of the entrepreneurial spirit of the Mace family. Having moved from NSW to the Derwent Valley after establishing businesses in aviation 25 years ago their hand turned to agriculture. With that came the knowledge and expertise in cultivating various livestock and crops, such as barley. After a consultation over some fly fishing with Bill Lark, the Mace family decided that a true paddock to bottle distillery would be their next venture. As for our Gin and Vodka products, these have been developed as a reflection of elements of the Estate. The freshness of the Van Diemen's Gin, the robust 1818 Settlers Gin and the purity of the Saint Clair Vodka are all designed around sharing the Lawrenny experience.
ADVERTISEMENT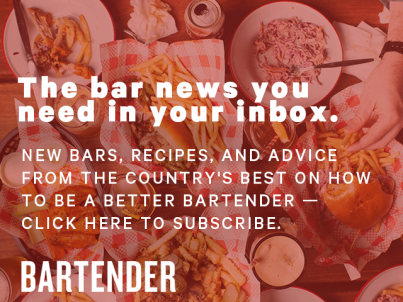 &nbsp
If a young bartender came to you and said they wanted to start their own spirit brand, what would you say to them? Just like setting up for a busy night behind the bar, starting your own brand takes careful preparation and organisation. You need to know all the facets of your brand, size, products, volume, target market, competitors. Its a market place that is growing everyday and you want to be in a position to hold your own in that crowd… a bit like ordering a drink on a Saturday night. There is a significant investment required so make sure you have a quality product that will stand up to rigorous review.
What products do you have in your portfolio? Lawrenny Estate has three current products in our portfolio. Our everyday gin which is the Lawrenny Van Diemen's Gin with fresh citrus, fennel and vanilla. The Lawrenny 1818 Settler's Gin  is our higher strength expression (52.5%) that is full of character including a smokiness from Brown Cardamom.  Finally the Saint Clair Vodka  is our take on a contemporary Vodka incorporating a small batch distillation of roses , lemon and thyme. While we keep busy with these offerings, we also have our Estate Whisky being produced which has had the barley grown in our fields, malted in house then brewed, distilled, barreled and matured on site.
Tell us a little bit about your distillery and your distilling process. There are many beautiful distilleries throughout Australia but I really can't say that there would be many more picturesque than Lawrenny. Located in the upper Derwent Valley, the distillery is surrounded by dramatic landscapes and is a pristine environment for producing quality spirits. We draw inspiration from around the estate and the area when crafting our products – many botanicals for our gins and vodka can be found on site at the Estate. Being one of only a few 'paddock to bottle' Estate Whisky producers in the world make Lawrenny an exciting place to work. It is very rare that you have control over the seed selection, cropping methods and malting processes in developing the new make spirit.
Tell us some of the highlights of a day in your life making booze/ running a brand. I've always loved recipe development, while you don't do this everyday its really something exciting because it's your chance to define your style and eventually make it as a bartender's or customer's new favourite product and hearing that feedback makes it all much better. The start-up stage is great for that, especially the first time you see your product on the shelf at your favourite bar. With so many people interested in Lawrenny Estate, it is great to be able to show them around the Estate and Distillery and hear their enthusiasm for what we have created.
And the worst parts… Start-up issues with equipment, suppliers and process are always an unavoidable pain. But they work out over time and then you're just left with the mundane everyday tasks of cleaning, paperwork and keeping track of how much coffee you've had since your 5AM wake up.
The spirits industry has changed a lot in the last 5 years, making way for events like the Indie Spirits Tasting. Why do you think this is? I think with all the growth in brands we've seen domestically and globally, events such as the Indie Spirits Tasting are going to be borne out of the curiosity of the public. You have so many different types of people coming along to these events from newbies to the scene to die hard drinkers and those both have dragged along. We don't have the budgets of the bigger brands however we have products that at least on par if not better than them. We need to find ways of engaging with customers and giving them the opportunity to learn about us and our products. Indie Spirits is a sensational avenue for this.
Where do you see the craft spirits industry heading in the next five years? I think that we are at a really interesting point in the craft spirits industry, it's interesting because we have so many new distilleries and other producers popping up and the majority vying for the same spot on the shelf. I expect to almost see a survival of the fittest, with some smaller distilleries closing and others growing considerably, continuing to take sales away from traditional brands. Consumers are only just starting to experience what types of spirits are available so we will see continued growth in the craft market for a while to come. Either way it is an exciting time to be in the game.
What do you think will be the hot new trend in the drinks world in 2018? I feel like the spread of premium canned premix spirits and cocktails is something that will really take off. Within the On Premise, I am sure there will be more call for premium spirits as customers become more familiar with  the brands.
You can learn more about Lawrenny Estate here. Or visit their table at the Indie Spirits Tasting at Lefty's in Brisbane on Sunday, 26th May from 1pm to 4pm. Click here to get your tickets now.
This year the event has expanded over two days. In addition we have added the Whiskey Roadshow event on Saturday, 26 May from 1pm – 4pm. Click here to get your tickets to the Whiskey Roadshow and make it a Spirited Weekend.