Sam Bygrave talks to Eddie Brook, co-founder of the Cape Byron Distillery to find out just how they brought their dream of a distillery to life.
"It's not a bad spot for an office," says Eddie Brook, co-founder of Cape Byron Distillery. He's not wrong.
Cape Byron Distillery is owned by the Brook family, and world renowned master distiller, Jim McEwan, whom you may know from any number of award-winning whiskies and from the creation of The Botanist Gin. The distillery is set on the Brook family farm in the hinterland of Byron Bay, and they're making gin with a sense of place.
We spoke to Eddie brook recently to find out more about the distillery and how it fcame about — it's a story worth sharing.
How do you describe Cape Byron Distillery to drinkers who are unfamiliar with it?
Cape Byron Distillery is in the heart of our family farm. We've had the farm in our family for about 30 years, it's a 96 acre macadamia farm. 30 years ago when the folks bought it, it was a completely rundown dairy farm; a real passion of my parents and my family is regenerating the rainforest here, and there's over 35,000 trees we've replanted — now it's teeming with life.
ADVERTISEMENT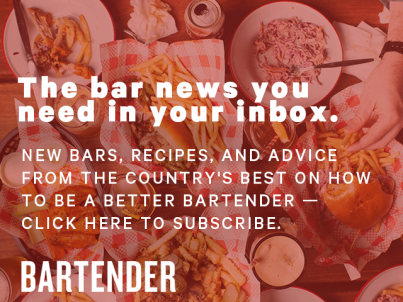 &nbsp
The distillery is nestled amongst that. So where we are is the hinterland of Byron, and from the top you can see the lighthouse— we're just in the hills. It's not a bad spot for an office. We tried to build [the distillery] so it fits in with our farm and what the rainforest is all about, too.
So how long has the distillery been in the works for?
It's a more recent development. As a family we had this lightbulb moment. We're sitting at the Roadhouse and we posed the idea, why can't we start a distillery? We're pretty passionate drinkers in our family, we love a good drop. That was the idea, but we put it up on the shelf.
Then I was lucky enough when I was working with SouthTrade to organise a whisky tour around Australia with Jim McEwan. It was during that tour with Jim where it really all came about.
I was a groupie of Jim McEwan, and to put on a tour it's always nervous work. We got to know one another, and I got to tell him about what my family does. I grew up here, and have always had a keen interest in native flavours — I used to pick Davidson plums and make jam from them every season. I was telling him about, you know, you take cinnamon — we've got cinnamon myrtle coming from our rainforest. Aniseed? We've got aniseed myrtle. There's juniper notes in the Lilly-illy. I was painting this picture for him, and he literally turned to me, in one of those moments that's just so hard to describe, and he says, "we were meant to meet and start this distillery."
How did the gins come about?
The first thing the old man did was take [Jim McEwan] into the rainforest.
He led him into the rainforest and we were tasting things like, obviously the lillypilly and the riberry, but also, white aspen berries from the tree that taste like lemon-lime sorbet, and the different myrtles we have growing, the native raspberries we had in season, it was really just an immersion.
The Brookie's Dry Gin was the first gin that we set out to produce. For us, we wanted to showcase a real balanced gin, in a way a bit of a nod to tradition but combining that with the unique flavours from our area and the Northern Rivers — it's one of the biggest sub-tropical regions for growing things like finger limes and a lot of other native fruits. Mt Warning erupted some 100,000 years ago and spread out all this lava which makes for rich volcanic soil and it's that soil that underpins all the produce in this region.
The gin itself, we're distilling with 26 botanicals, but 15 of those are not just native but they're native to our region, the Northern Rivers. The majority of those come straight from the rainforest on our farm as well.
The Slow Gin's base is the Dry Gin. Where I grew up, every season I'd harvest Davidson plums and always make a jam from them, that was me as a kid. The flavour of the Davidson plum has this incredible tartness, and an almost tannic note to it, it's really quite sour and dry.
As I'd worked in the spirits industry, I'd always tasted sloe gin. If you ever eat a sloe berry, it's got that tannic and harsh structure to it; yet we have got almost the exact same characteristics [from the Davidson plum]. We take the Davidson plum, and we steep it straight onto our Dry Gin and it rests there for about seven months. What we're actually looking for is this oxidised note, it develops into this flavour that's almost like a port-like character.
What does the future hold for the distillery? 
We want to be very much a generational distillery. For us, family is what drives us, but also our connection and what we give back to our region. We hope to be able to give back more to the Big Scrub Foundation of which we're a part helping to regenerate rainforests by buying back land and reconnecting forest corridors. We're going to be dabbling in a few other products to be released this year, showcasing more native Australian fruits and produce native to our area. Also, we start whisky production this year.
We've got some exciting partnerships in the pipeline as well.
You can find out more about Byron Bay Distillery when the Indie Spirits Tasting comes to your town this year – visit indiespiritstasting.com.au to find out more, and click here to get tickets to the Brisbane event in May.