When you find London bar Scout, somewhere amidst the hustle and bustle of a Shoreditch high street, your first impression is one of — hey, is this really the bar with the high concept, left of centre drinks? Because it doesn't feel like it. It doesn't feel like the kind of place where the menu changes daily according to what's in season, it doesn't feel like the place where you'll find drinks made from foraged ingredients. It's more fun than we've been led to believe those sorts of bars are. For our money, it's one of the best bars in the world right now.
We landed a seat in the bar during London Cocktail Week last October, on a night when Luke Whearty of Singapore's Operation Dagger (and who is working on a new Melbourne project) was running his menu in conjunction with the Scout menu for the day. It was a good night to visit.
The drinks were some of the finest we tasted in London: full of flavour, the balance just so, and interesting enough to be unlike anything we'd ever had all the while being familiar enough to keep us comfortable. They were, simply put, fucking ace.
Scout is the work of well-regarded London bartender Matt Whiley, who is also the brains behind Peg + Patriot, as well as a co-founder of avant-garde bars Purl and Worship Street Whistling Shop.
Scout is dedicated to British produce — which means they won't source, say, lemons from the USA — and they've taken to fermenting and distilling ingredients when they're in season so that they can access those flavours all year round. The menu changes daily, too.
ADVERTISEMENT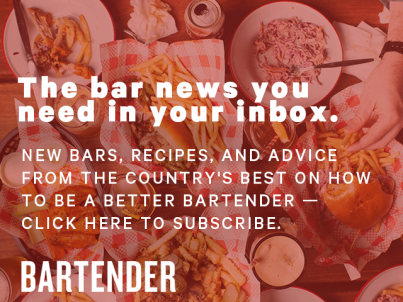 &nbsp
But you'd be wrong if you thought this place was only about the drinks. They are a big focus, for sure. But it's more the service — familiar, warm, and knowledgeable, the kind which doesn't bang you over the head with an abundance of geekery. Instead, they host you, like any good bar should.
Here, Whiley tell us a little bit about his approach to the menu, and we get an idea of what makes Scout tick.
Tell us about your general approach to the drinks and the list at Scout? 
The drinks at Scout are all seasonal British, meaning we don't use any fresh produce from outside of the UK, and we only buy produce that is in season. The drinks themselves don't have any guidelines or structure, we try to make the the best possible drinks we can with what is available to us.
We also have a section of ferments that are a low ABV wine made from fruits and vegetables; this is made either at the height of the season or at the end of the season as a way of preserving the flavour, like having berries available in the winter.
Your menu changes daily, and I imagine there's a fair bit of work that goes into the drinks behind the scenes — could you give us an idea of what the day at Scout is like before service? 
It makes it sound like it's going to be really hectic rushing about to make a drink for service. I guess it was when we opened, but now eight months in we plan what's going out of season and what's coming in, and we also get a heads up from the forager about what's tasting great at the time too. The ferments are more ad hoc, these are made  with what we find in London. There is produce in abundance all around from apricots, lots of fig trees, plums, almonds, walnuts, hazelnuts, grapes, rowan berries, blackberries etc.
The drinks at Scout could come across as quite intimidating, but that wasn't our experience. How important is the service in this respect? 
Service is the most important part and I think it always should be. I think it's pretty simple: if the guest leaves happier than when they arrived, you have succeeded. That might come from a drink or the music or the vibe, but making someone feel comfortable with friendly service will probably be what makes a guest come back.
Can you tell us a bit about how the ferments come together for the list? 
I've been fermenting things for quite a while now and had some success at the start, but now I think I've got it. The ferments are usually made up of between four to 10 kilograms of fruit, water, and sugar. They are then covered with muslin and left for roughly four days stirring once daily. They are then sealed and air-locked and left for about a week, then we strain off any solids from the fruit and ferment until the flavour is awesome. Traditionally the wine would be racked but we centrifuge it to remove any solids and bottle it, we don't use a filtration system.
I think these ferments could seem the most strange on the menu but actually they are the most approachable — super easy, really low ABV wines that taste delicious.