It's hard to believe these days, with all the interest in whiskey, that Irish whiskey was once upon a time a hard sell. And that was just a few years ago. Thanks to its broadly more approachable flavour profile, Irish whiskey has come back into favour with punters. But it's not a mere simple drink, according to Swanny Kanongataa, the general manager of Sydney's The Wild Rover.
"Generally it's a pretty light spirit," he says, "but with the newer whiskeys that are coming out there's more complexity."
And that means that gone are the days when Irish Whiskey was easily categorised as a rounder, triple-distilled whiskey. "Because it's reemerging, the new whiskeys are so diverse," Kanongataa says. Below, we take a look at Tullamore D.E.W.'s new distillery, and share our Cheat Sheet to the good stuff from the Emerald isle.
You can get the recipes for a couple of top Irish whiskey cocktails, online today, too — get the Cameron's Kick recipe and make sure you give The Wild Rover's Blazing Barrels a whirl, too.
ADVERTISEMENT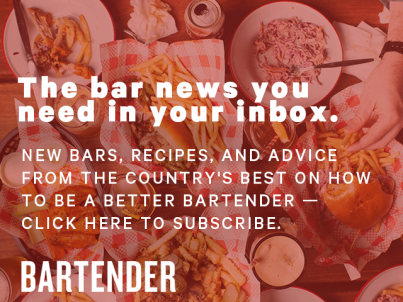 &nbsp
What's inside an Irish Whiskey Distillery?
Let's take a look at the newish distillery for Tullamore D.E.W. The distillery opened in 2014 in the town of Tullamore, which saw whiskey distilling return to the town for the first time in 60 years. The old Tullamore distillery opened in 1829 and operated until 1954, when whiskey production was no longer viable.
But times have changed for Irish whiskey, and things are looking up. William Grant & Sons picked up the Tullamore D.E.W. brand in 2010, and began distilling in Tullamore in 2014. The new distillery features four hand crafted copper stills (each designed to resemble the original stills from the old Tullamore distillery) six brewhouse fermenters each with a 34,000 litre capacity, and warehouse storage for 100,000 casks.
The Irish Whiskey Cheat Sheet
Irish Whiskey must be made (distilled and aged) in either the Republic of Ireland or Northern Ireland to be called an Irish whiskey.
The spirit must be aged for a minimum of three years in oak casks.
The spirit must not be sold at less than 40% ABV.
There's no particular rule own how you spell whiskey or whisky.
It must be made from grain (notably barley), and must be made from a yeast-fermented mash.
Most Irish whiskey uses unpeated malt to create a less smoky spirit than some Scotches, though there are examples of peated Irish whiskies.
Most Irish whiskey is distilled three times to reduce unwanted elements like fusel oils and congeners that also help create a smoother spirit (whereas Scotch usually sees just two distillations).
Single pot still — formerly known as pure pot still, it's the product of one distillery and is made from malted and unmalted barley.
Single malt Irish whiskey — made from malted barley, it's the product of one distillery.

Teeling Small Batch Irish Whiskey
Vanilla and spice on the nose with sweet notes of rum from the rum cask finish, it's smooth and sweet on the palate with woody characters on the tongue, leading to a moreish sweet spice finish.
Find out more via SouthTrade.
West Cork Single Malt Irish Whiskey
This single malt is 10 years old, and made at West Cork Distillers. There's intense malt and a floral character on the nose, with flavours of cracked pepper and citrus on the palate, and a malty finish.
Find out more via Kollaras.
Tullamore D.E.W. Irish Whiskey
Tullamore D.E.W. is triple distilled and is a blend of grain, pot still and malt whiskeys. Each of the whiskeys brings a different character to the bottle, be it citrusy, malty, or floral and biscuity.
Find out more through William Grant & Sons.
The Tyrconnell Irish Whiskey
The Tyrconnell Single Malt Irish Whiskey is produced by the Cooley distillery, and is a single malt Irish whiskey. Notes of marzipan up front, with a light spice, cinnamon and clove, following through to a creamy palate.
Distributed by CCA.
Bushmills Black Bush Irish Whiskey
The dark colouring is a result of maturing for up to seven years in Spanish oloroso sherry casks and sweet bourbon barrels. On the palate' this 80% malt whiskey floats across the tongue to deliver dark' velvety fruity notes right through to the back of your throat.
Distributed by Proximo Spirits.