Australian Bartender stopped by Mjølner Melbourne last week, to check in on the team as they gear up for their opening next week — and what a team they have.
Opening on Wednesday 28 March next week, the team at Speakeasy Group (which owns both Mjølner outposts in Melbourne and Sydney, Boilermaker House, and Eau de Vie Sydney and Melbourne) have assembled a crack team of hospitality pros for the launch.
Mikey Braun is the bar manager and comes to the Speakeasy Group from Black Pearl; the venue manager, Max Hart, has been moved over from Boilermaker House, as too has Joshua Crawford who is in as bar manager. On the restaurant side of things, Nick Winter comes from Kisume and the Rockpool Group to lead the floor team as restaurant manager, along with head waiter Erin Moriarty.
There will be a few key differences for the Melbourne outpost of Mjølner, given the space and location differ significantly from Mjølner Sydney, says Speakeasy Group operations manager Greg Sanderson.
"50 percent of the venue is going to be a cocktail bar, whereas less than a third of Sydney's is," he says. "The licence is going to change the dynamic, being in the CBD will change the dynamic."
ADVERTISEMENT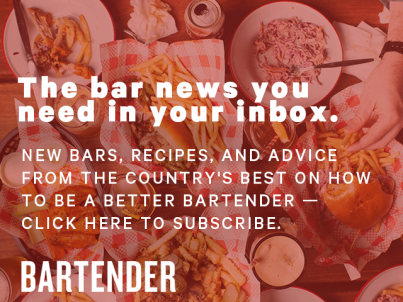 &nbsp
The venue takes over the old Nieuw Amsterdam space on Hardware Lane in Melbourne's CBD; the top level will accomodate 82 guests for restaurant service, whilst downstairs some 86 guests will be looked after at the table service only cocktail bar.
"It's a slightly different venue [compared to Sydney], we're going to have a lot more cocktails being drunk down here without there being food next to it," Sanderson says.
The Speakeasy Group has some experience in running similar bar concepts concurrently in Sydney and Melbourne, with their high-end speakeasy cocktail bar Eau de Vie operation in each city.
With Mjølner, however, the idea is that the cocktail lists of Sydney and Melbourne grow independently of each other.
"We're launching with the same menu as Mjølner Sydney, just to get ourselves on our feet, and then we'll be making quite individual menus," says Sanderson. "Whereas Eau de Vie lists are extremely similar, these will grow apart.
"It's encouraging for the creativity and individuality of the bar managers and the staff, and with it being a smaller menu than Eau de Vie, we've found you can switch things in and out a bit easier. We've got such a solid team, with Mikey Braun heading up down here and Alissa [Gabriel] being super creative in Sydney, we're encouraging that."
The bartenders at Mjølner Melbourne, however, will be the first within the group to get their hands on some fancy bartending toys.
"We're putting our first rotovap in for the group, we've never sort of gone down that route," Sanderson says.
Mjølner Melbourne will trade seven days a week, and on most days the restaurant will stay open until midnight and the bar until 1am; on Friday and Saturday nights, the restaurant will trade until 1am and the bar until 3am.
Opening from Wednesday 28 March, and bookings are available now — visit mjolner.com.au to book.