'Sweet, floral, grassy and pungent.' Everything you need to know about this ingredient of the moment.
What is pandan?
You may have seen pandan listed as an ingredient on a cocktail list or in the specs for a drink. Indeed, pandan is having something of a moment right now, as it's proving itself to be quite the versatile ingredient. So just what the hell is it?
"The pandanus leaf is used a lot in South East Asian cuisine it's used in both sweet and savoury dishes and has been around forever, it's only really new to us dumb white folk," says PS40's Thor Bergquist, who is a big fan of the pandan. "Often savoury items are wrapped and baked in pandan leaves, or fried with diced leaves, or essences are used in baking."
What does pandan taste like?
It can be difficult to describe the taste of pandan because it's complex, though you'll often see it described as a earthy, vanilla-like flavour.
"The flavour is grassy, herbal, sweet and earthy all at the same time," says Joe Sinagra, from Perth bar The Halford (you'll want to check out their recipe for the Pandanmonium in this month's issue on page 44). "The best way to describe it is a complex, savoury vanilla," he says.
ADVERTISEMENT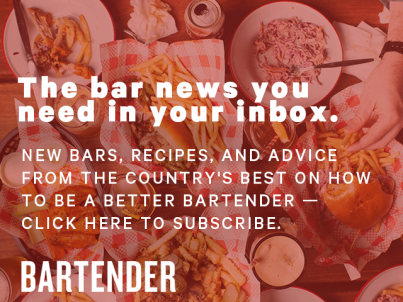 &nbsp
Bergquist agrees, and says that you're most likely to notice the flavour of pandan on the back of the palate.
"The aroma and flavour is very unique," he says, "often described as a nutty leaf it actually has much more than that, being sweet, floral, grassy and pungent all at once, it also comes up on the palate much later than everything else adding a really nice aftertaste to drinks without overpowering any other ingredients — in this way it's very versatile."
How do you use pandan?
So how do you use the stuff? They make a pandan syrup at The Halford (see the recipe on page 44), and at PS40 they've found a suite of uses for it.
"We started infusing spirits with it," says Bergquist. "Especially cognac which shares a lot of flavours with pandan — when making something classic like a Sazerac it's really interesting because that first sip will taste just like a classic Sazerac, but when you breathe out those pandan flavours will take over your palate."
It also "fits really nicely with tiki style drinks with a twist pairing well with pineapple and coconut," Bergquist says, two tiki flavours that are "common ingredients alongside pandan in South East Asian cooking."
Sinagra sees pandan playing with a wide variety of spirits.
"Being so complex and multi layered Pandan works well with so many different spirits. The sweet elements work well with sweeter fruity spirits like rum while the earthier flavours match great to Tequila. I'm sure given it's aromatic qualities gin would also be a solid match," he says.
[ultimate-recipe id="44016″ template="default"]
So why are we seeing it more now?
Bergquist believes the reason we're seeing pandan appearing more often is because of one person.
"Nico de Soto, to put it bluntly," he says. De Soto is the French bartender behind the bars Mace in New York and Danico in Paris. "Everything that dude makes is complex but super approachable, tastes great and makes you think," says Bergquist. "Since he's come up in the bar world his passion for pandan is contagious and as all of his menus contains at least one pandan drink people are getting it."
But the ingredient hasn't just arrived on the scene yesterday — Bergquist first became acquainted with it when another forward-thinking bartender brought it to his attention.
"It was Luke Whearty that first introduced me to it in 2009 when he recreated a sugarcane prawn dish into a drink called the Sugarcane Swizzle back at Der Raum, using pandan and chilli infused rum, lime and cane sugar," Bergquist says. "It was super tasty and I've always been fond of pandan ever since."
And if you get the feeling you've been left out of a secret pandan cabal, you might not be paranoid — you could be correct.
"You may have noticed that both these guys [de Soto and Whearty] have done pop ups at PS40, as well as Michael Callahan who's been using pandan a lot too. Not saying there's a secret pandan bartender society club or anything, but y'know, there might be."